We have already reported of a rumored release of the Windows Phone 8 device by Nokia which is supposed to make its debut at the Nokia World event a week before the launch of the iPhone 5.
With the release rumors out, it was only a matter of time before the supposed to be Nokia Windows Phone 8 device got leaked. And here it is: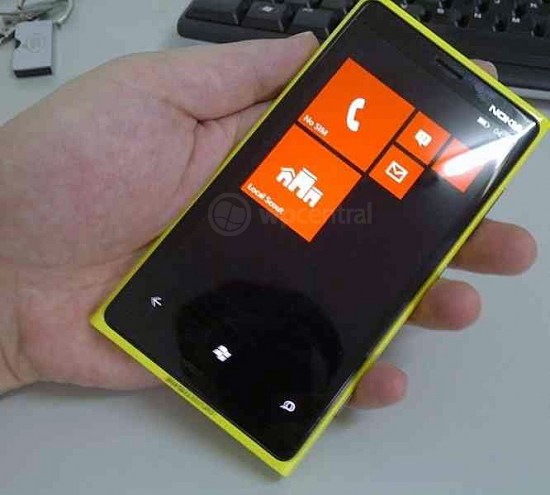 The yellow device is supposedly called the Nokia Phi which looks larger than the Nokia Lumia 800 and is also said to be heavier. It has a 4.65 inch display, though the resolution of the same is not known at the time, but we hope it to be at least 720p and not the usual 480×800 that Nokia has on the displays of their flagship devices.
Among other important features it has an external SD card slot for memory expansion, NFC chip for mobile payments which will work using the Wallet Hub app on the Windows Phone 8 platform and finally 4G LTE.
We are certain that the new device would certainly be available in a range of colors which would include cyan as well, which has been the most popular color choice in the Nokia Lumia Windows Phone range.
Importantly on the design front it still retains the curved screen design used on the Lumia 800, which Nokia received some flak for dropping it on the Lumia 900. Even Stephen Elop had praised the design of the Lumia 800 and it would make more sense for Nokia to just evolve the same design.
The Nokia Phi is ready for shipment around October which means that it must have been already manufactured and hence the image could well might be genuine.
Nokia needs this device to fly off the shelves in order to be able to stay afloat and see the next year without going bankrupt or being acquired by some other firm. We hope that Nokia is indeed able to make a come back with the new Nokia Phi, after all a little competition always benefits the consumers.

Nokia's Latest Windows Phone 8 Device "Phi" Leaked