After spending over 6 months with the Moto X, as planned I also got an additional iPhone 5s 32GB. Thus ending up with two SIM cards and phones for the first time since 2006. My primary SIM goes in the iPhone and the new SIM goes in the Moto X. Here are some random notes on this transition (of course avoiding post number 64556 on switching from Android to iPhone or iPhone to Android).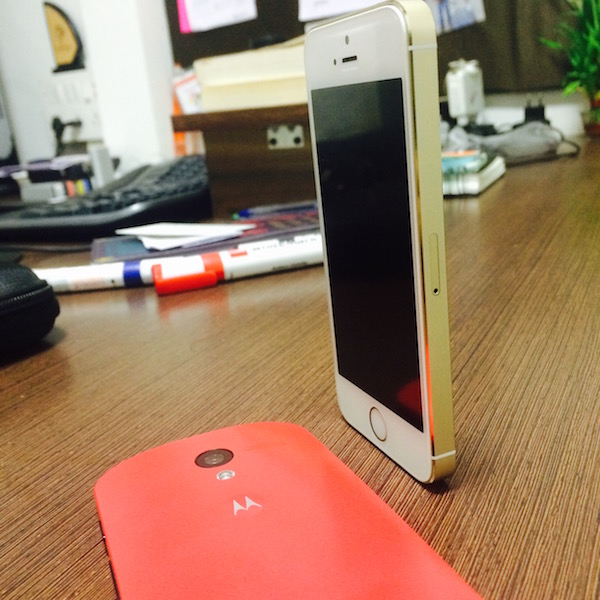 –  I travel often and my primary Vodafone connection doesn't always work well in other cities. So a backup SIM from another provider helps
–  Moto X hasn't got Lollipop yet and the screen / camera doesn't even match up to my old 4S. So I'm kinda delighted to be back on the iPhone (5s this time)
–  TouchID is good stuff 🙂 If it could be a bit faster, I would love it even more. But then may be the iPhone 6 already does that?
–  On iOS – I miss the Gmail linked contacts management, being able to edit phone no after pasting it in the dialer, sharing to WhatsApp / Instagram etc. On and WhatsApp Web too!
–  On iPhone I love the tap the top of the screen to scroll to top, camera / display, iMessage, Instagraming, Continuity, overall design
–  The battery life on 5s is sad. Moto X was better. 2200mAh vs 1500mAh?
–  32GB storage feels good. No more scrambling for space. Songs, Photos, Media – all stays
–  TweetBot!
–  Moto X gets used once in a while just for testing new apps that are Android First (that's how it works in India)
–  Since battery life is such a pain, having two phones counters that
–  WhatsApp is slow on the iPhone. It takes time to sync messages even after getting a notification. Hangouts app isn't as bad, but I would love to use the blue bubbles as much as I can 🙂
–  Mail App on iPhone is something I always liked for its nativeness. But given the number of times the email loads blank and I have to refresh multiple times to see the message contents, I switched to Gmail app. the Gmail App is okay. Hoping updates will make it better. May be time to try Mailbox or something else again? Acompli?
–  Also left with a feeling that Moto X was a bad choice to try Android. May be the Turbo Max next time? Or something that fulfils my criteria of very good camera to begin with.
–  Google Now was much better for local names / terms. Siri does my basic work of setting reminders / alarm.
–  I didn't use Ok Google (handsfree commands on the Moto X) to save battery life.
–   Spent more than 30k on a phone after a long time. The last one was Optimus 7. Still managed to get a bit of a deal at 35k for 32GB 5s.