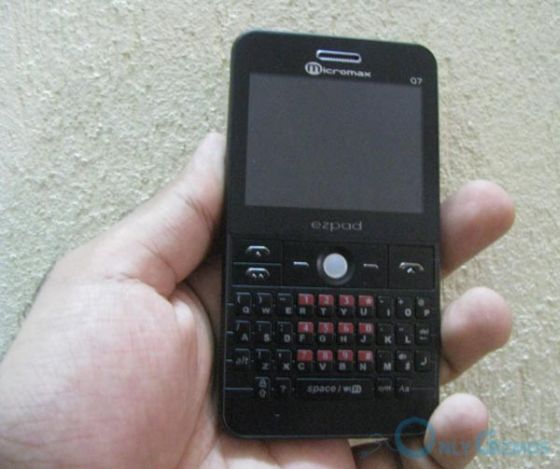 After the success of earlier models viz, the Q3 and the Q5 in the ezpad series; Micromax is out with yet another QWERTY phone, Micro max Q7 ezpad. Micromax has made an attempt to come close to the brilliant smart phones of Nokia E series and Blackberry, but comes nowhere near. But is a good choice for 5000 bucks. It is available in two colours, black and silver. It has a Wi-Fi (woohoo! A first for Micromax ezpad) and is preloaded with facebook, opera mini and nimbuzz messenger. As usual it's a dual sim phone with a 2 Megapixel camera, which is of no great quality.
Micromaxx has provided a standard 3.5mm jack which is a sweet surprise for music lovers. It supports mp3, amr, midi, wav formats. The sound is amazing (to our surprise!) on the earphones, but when it played in the background sounds more like a "loud" china phone kinda sound quality. It plays stereo FM too. It also has sound effects options like bass enhancer and equalizer, but sounds no change when whichever (classical or rock) is selected (what?). We played some videos (.3gp and .mp4) but were left a tad bit disappointed as we were expecting the screen quality to improve from its predecessors. So overall, the sound quality is okay, and the video quality is acceptable (well frankly at this price point anything looks good).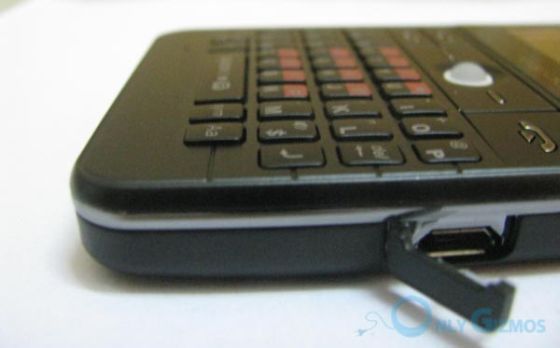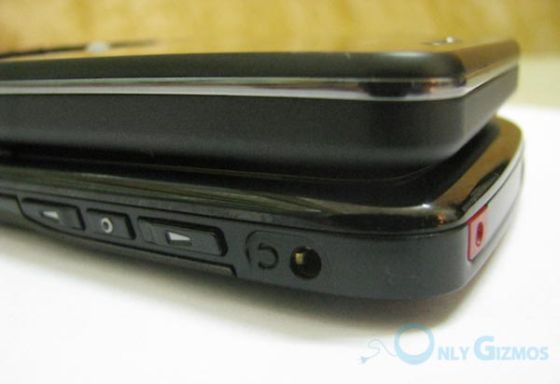 I am extremely disappointed with the looks of the phone. It just looks like a cheap plasticky phone which gives you hard click feels when you use the keyboard. Ergonomically the phone doesn't impress us much either, since the Micromax Q7 consists of a 3.5mm jack on the top left and a USB port on the lower right (We would have loved to have a camera and volume control keys). Q7 is slightly thicker than Nokia E71. The back of the phone has a camera on top and a speaker adjacent to it. Compared to the Micromax Q5 the Q7 is much smaller in size and does away with the curves + metal that the Q5 carries. The Q7 comes with a trackball which is just average with its responsiveness (Though believe it works better than those cheap Chinese phones. Nowhere close to a blackberry though!) It has an internal memory of 78MB, and it has a memory slot expandable upto 4GB.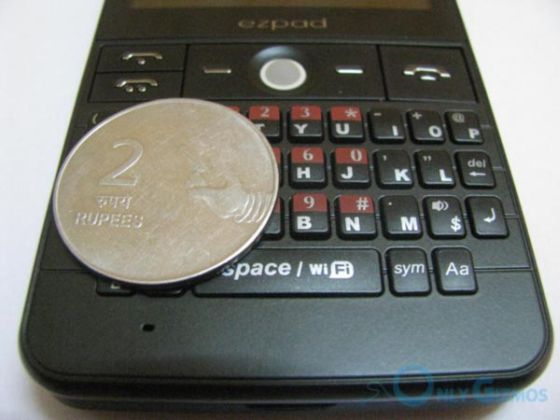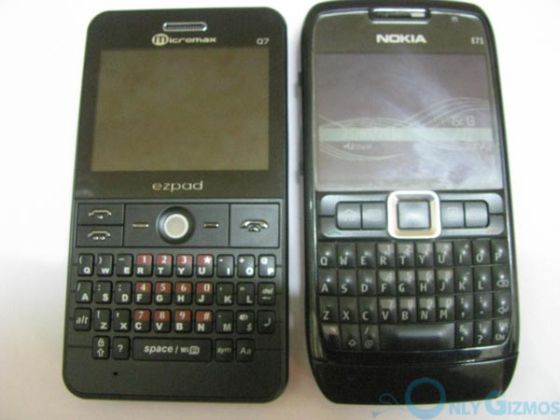 Coming to the keypad, the keypad isn't too great yet much better than what we had expected in this range, but when compared to its own predecessor Q5, it fails! There is spacing between each individual key; they are square in shape and flat. We noticed an elliptical curve on the keypad, but it is noticeable only around the keys at the centre of the keypad. However, not anywhere close to the Nokia E series. If you have used the Q5, you will have issues with this one, else this works better than the Videocon V1675 and Samsung Corby txt.
Micromax Q5 QWERTY
Q7 sports Opera Mini just like its predecessors, but it can open only the predefined bookmarks, no new URL can be entered into the address field, just like the Q5 (bad!). The UI is pretty much the same in all the models, running a basic Java OS this handles all basic tasks pretty well. The 2MP camera is basic; you can see the sample images below in the gallery (not bad).
In the box:
Handset
Charger
Battery
Handsfree
USB Cable
User and Service guide
Warranty Card
Driver's CD (mentioned but missing)
Leather pouch (mentioned but missing)
Q7 Specs:
Dual Sim support
Wi-Fi Enabled
Music Player powered by Yamaha
2 MP Camera
QWERTY with Trackball Navigation
Memory expandable upto 4 GB
Facebook, Nimbuzz, Multi Instant Messenger
Preloaded Opera Mini Browser
VERDICT:
Micromax Q7 ezpad is an entry level phone with QWERTY keyboard. This thing does a good job at looking professional and at the same time not costing you a bomb. We love the WiFi thrown in here, but then it's no use surfing the web when Opera Mini is buggy. However, a substantial budget phone if you just want the looks of a QWERTY and somewhat reliable quality.