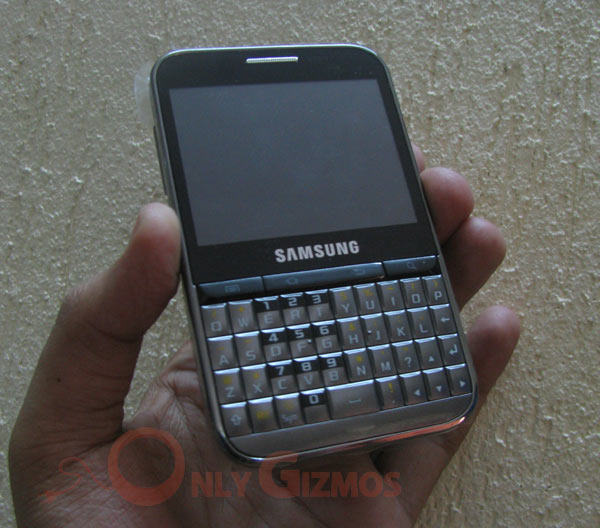 It is not often that you come across a QWERTY keyboard (the non-sliding type) laden Android phone. There have been a few examples in the past like the Motorola Charm and the now ancient Kogan Agora Pro. Most Android handsets seem to favor the full touchscreen variants with a slide out keyboard. That said, there has been a history of half QWERTY phones like the E71 and the E72 doing well. And then there are the BlackBerry's . Anyway, it's good to see manufacturers staring to offer more form factor options for the Android platform.
Today we have Samsung's just launched Galaxy Pro with us. This is a mid-range smartphone running Android 2.2 (Froyo). The Galaxy PRO comes in a rather large box for a mid-range phone. The package includes most of the expected stuff that includes the charger, micro USB cable, user manual, a set of in ear earphones and of course a 2GB microSD card along with an adapter. Should you feel the supplied 2 GB isn't enough, you can expand the memory to up to 32 GB. The handset comes with 512 MB of internal memory out of which 140 MB is effectively usable. The internal memory cannot be used to store images and files. You get to store only apps in there.
Look and Feel
The Galaxy Pro is quite a decent looking phone. However, it also looks like a almost exact replica of the Motorola Charm – a similar Android laden phone. The screen measures 2.8 inches across and has a resolution of 320*240. This is very low by Android standards and you might be put off by the resolution if you have been used to much higher resolution displays. But then if you come from the E71 school of thought, the resolution seems just fine. The phone feels quite plasticky – but not cheap. The overall fit and finish feels decent- but could have been better. The phone although not very slim, is quite lightweight. This will easily slide in to your pockets and won't be bothersome as well. It also boasts of the same sliding cover mechanism for keeping the dust away from the microUSB port. This has been hitherto seen on Samsung's bada laden phones and also the Galaxy S.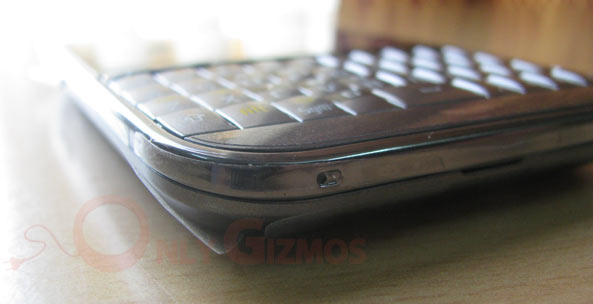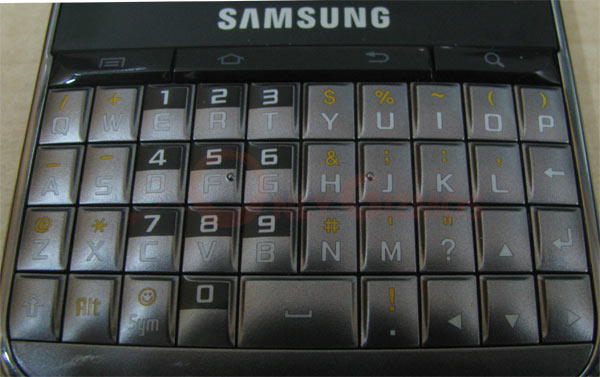 UI
The Galaxy PRO runs Samsung's TouchWiz interface over Android version 2.2.2 and is powered by an 800 Mhz processor. You would be at home with the UI if you have used earlier Touchwiz laden Android handsets from Samsung. The phone feels quite zippy thanks to the fast processor. Just in case we haven't informed you, the phone is full touchscreen device as well. The touchscreen works quite well and is very responsive. Of course, it would be crazy to expect an onscreen keyboard on this one when the screen has little real estate left and when you have a nice, expansive keyboard at your disposal as well. The keyboard is right up there with amongst of the best out there. The buttons are responsive and we have no hesitation in recommending the device to a messaging and e-mail junkie.
Imaging
The GT B7510 gets a basic 3.2 megapixel, fixed focus camera with features like smile shot and a panorama mode. In all, this should suffice for a person who is looking to use this one as a casual camera for basic photography. Video recording can be done at QVGA resolution at 30 fps – which again is fine for a device in this class. Here are some sample images and videos from the phone.
Sample Shots: (Click on them for an enlarged view)
Sample Video shot from Galaxy Pro:
Connectivity
Even though a mid-range handset, the Galaxy PRO doesn't compromise on connectivity options – packing in almost everything you can think of. It supports Wi-Fi b/g/n, Bluetooth 2.1 with A2DP and of course, USB
Performance
We ran a few benchmarks on the phone to see how the phone stacks up on the global scale. It didnt really disappoint us. Using AnTutu System Benchmark, it returned a score of  1201. Quadrant bechmark puts the Galaxy Pro above the likes of the HTC Desire, Nexus One and the Sony Ericsson Xperia x10. Here are the scores.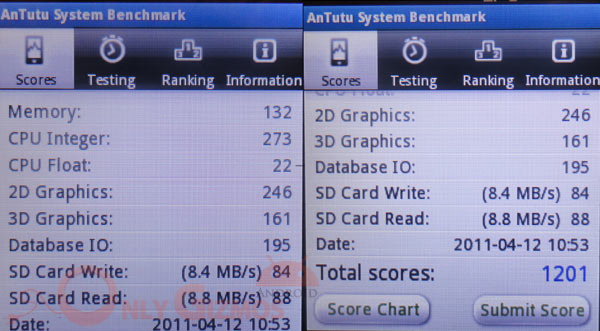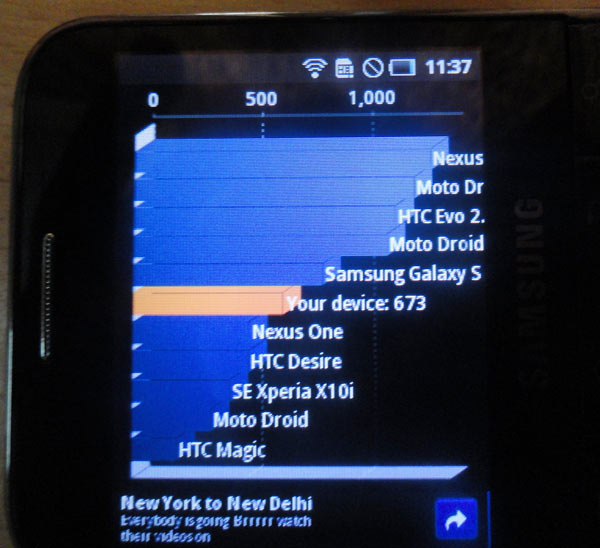 Samsung Galaxy Pro (Quick Video Review):
Conclusion
The Samsung Galaxy PRO is a decent, value for money phone. There are somethings like the screen resolution and the lack of a decently spec'd camera that might bother you. However, for the price it retails, it is an almost perfect phone. The keypad is a joy to type on, the UI is zippy and the multimedia capability too is just above normal. The performance is way above average and if you have been waiting for an affordable Android handset with a physical QWERTY  keyboard, your wait just ended. The Galaxy PRO is priced at Rs.12,500.