When was the last time we saw so many handsets from Nokia in such a short span of time, and each of them appealing to different audiences? We have already seen the N8 and the E5, with the former targeting shutterbugs and the latter appealing to our enterprise sides. Now comes the C6, which carries forward the legacy of the N97, by combining a touchscreen with a full QWERTY keyboard that slides out from the side. We got our hands on it, unboxed it and here are the results…
The C6's box adheres to the "slim is in and it must be blue too" philosophy behind the N8. It is a relatively thin box with a picture of the handset on the top.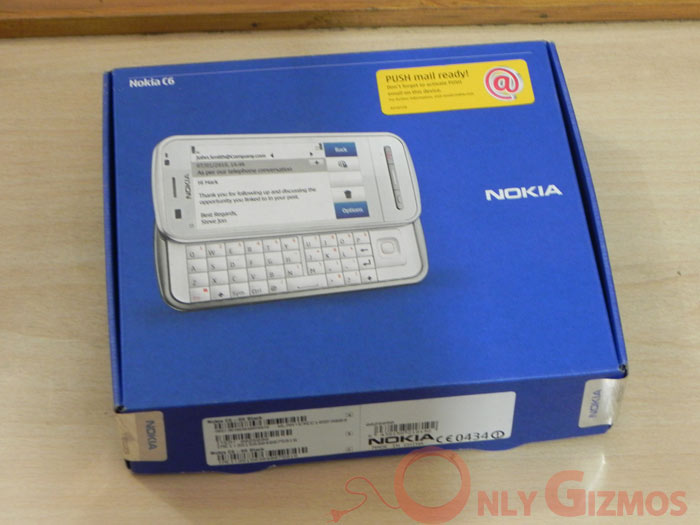 And there is the C6, packed in neatly and materialising the moment you lift the cover of the box.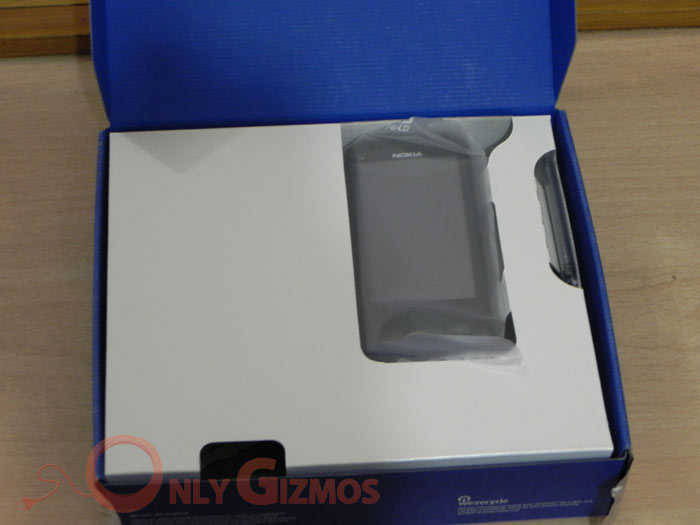 The contents of the box. Lots of stuff in there, ladies and gentlemen, so let us just get it out and spread it out nicely…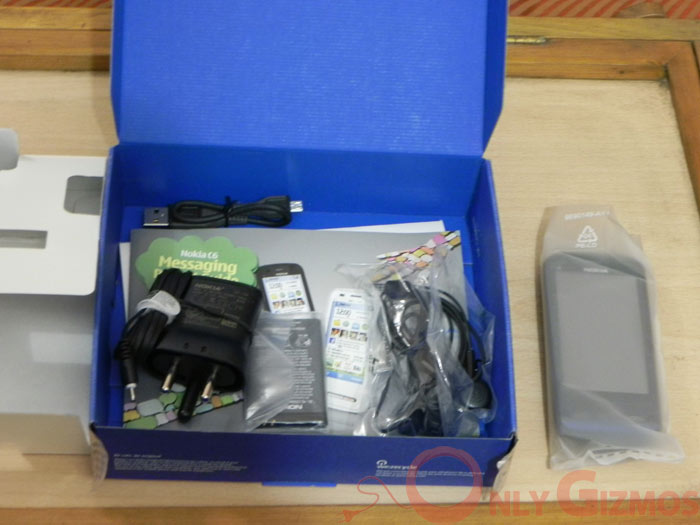 ..Like so! Now, we have the entire contents of the C6 box: phone, pin-charger, USB data cable, battery, manuals, and the headsets. Time to get up, close and somewhat personal with the C6 now.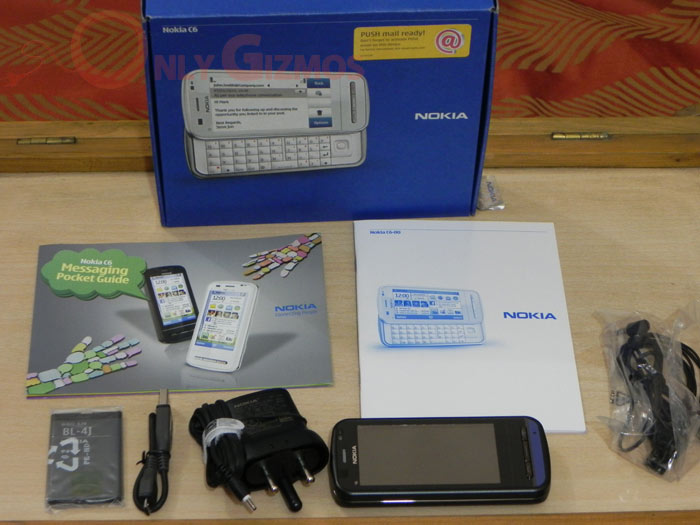 So there it is – the Nokia C6. We got one with a blue accent and must confess that it looks rather smart, with the 3.2 inch touchscreen dominating with three metallic keys beneath. A classic case of Nokia not trying anything radical and coming out with a device that seems relatively straightforward but certainly not unpleasant to the eye. It seems a bit heavy though. And thick too. But that is because…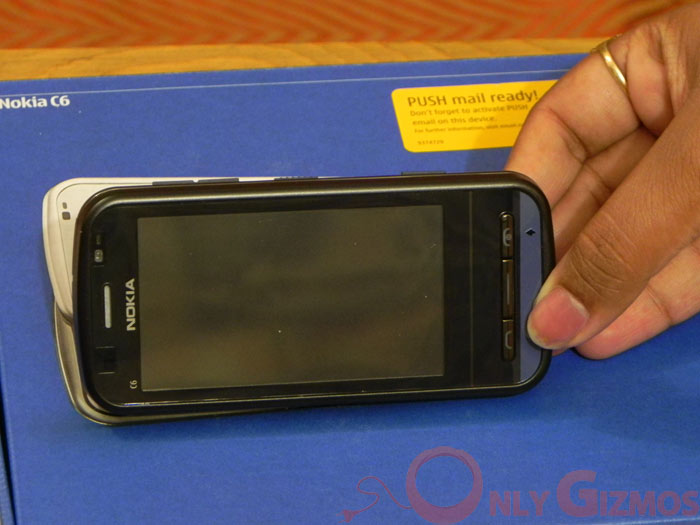 …it has a slide out QWERTY keyboard from the side. And an exceptionally  spacious one too with a space bar that is more to the center than the right (remember the N97?). What's more, it slides out tremendously smoothly, with none of the WHACK noise that we heard on the N97. A nice QWERTY this.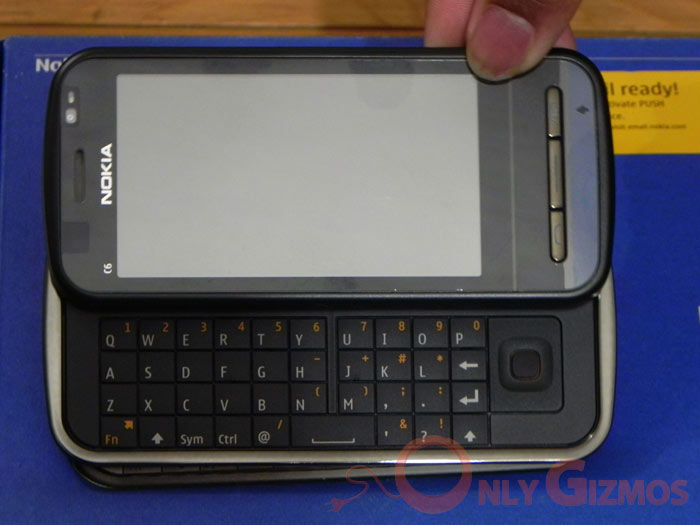 The C6 is many things, but certainly not anorexic. However, it does not look too fat either. The right side has the volume buttons, the screen lock/unlock button and the dedicated camera button. Not too much of a crowd here, and that steel band looks remarkably classy.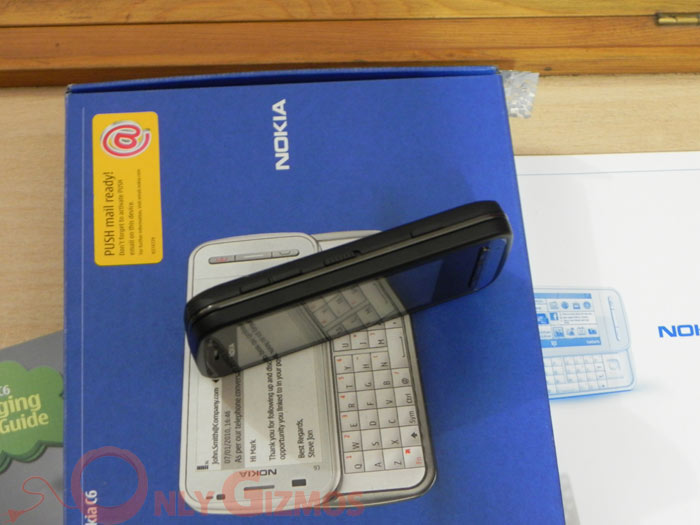 The left side, with only the expansion card slot on it. Very minimalistic. We like.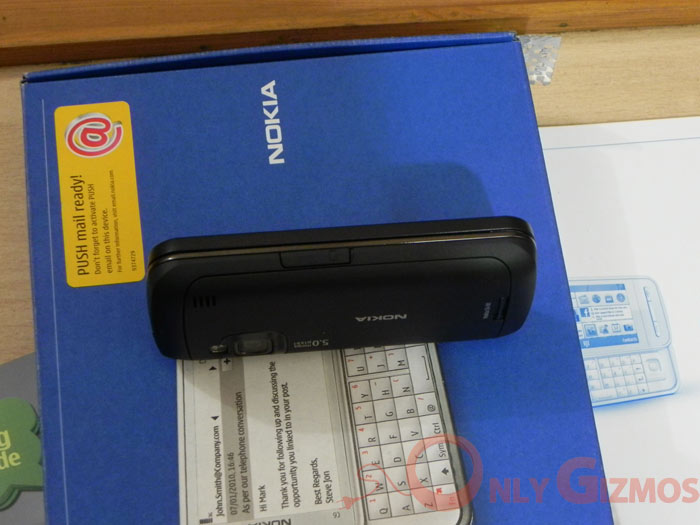 The back of the C6 with the 5.0-megapixel shooter and flash. Again nothing too flashy but easy on the eye.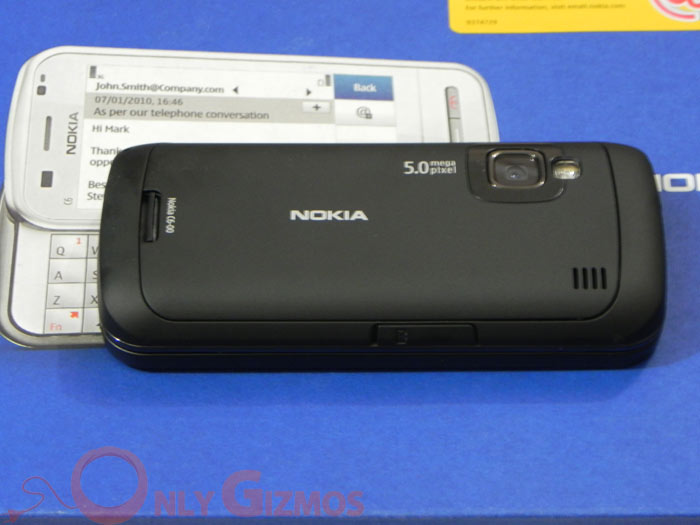 All in all, we must confess to being impressed with the looks of the C6, and for a price tag of Rs 13,799, it certainly offers a lot. We will be taking a closer look at how it performs in our review. Stay tuned.