There is very little that we did not know about the OnePlus 3 before its impending launch today. The smartphone is all over the internet with its pictures revealed in all the glory for everyone to have an opinion on what the device is and what it brings. The metallic design, the fingerprint scanner, the fact that it will come with Snapdragon 820 SoC are things that virtually everyone knows about the phone. The only unknown thing sort of, has been the price of the phone, at least here in India. Yet, it looks like that has been revealed too.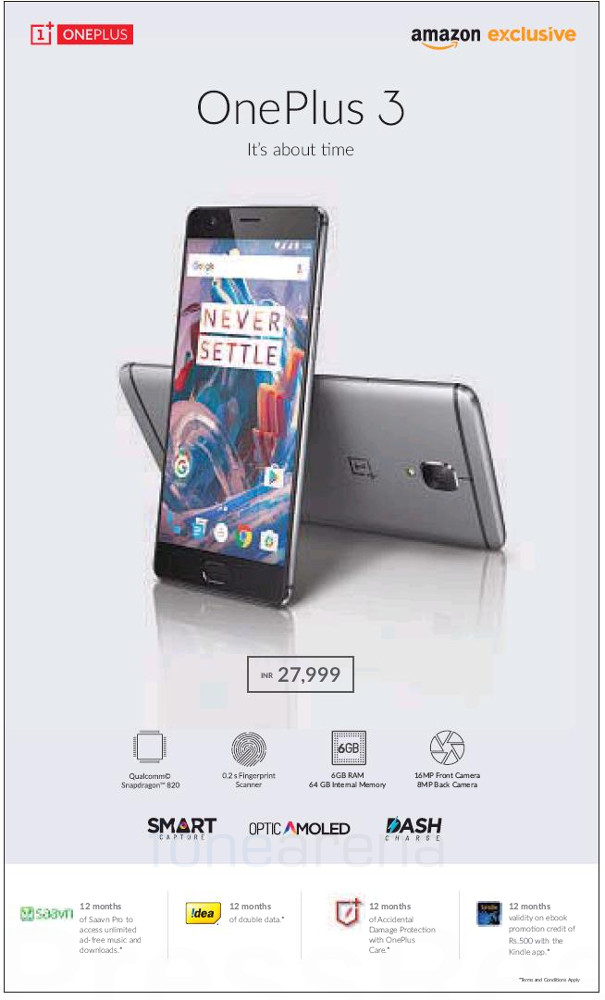 According to an ad published, perhaps you would think by mistake, the OnePlus 3 will be priced at Rs 27,999 for the 6GB RAM variant. This will make the device to be the cheapest 6GB device that we have seen so far being sold in India. The ad also confirmed that the device will be running the flagship chipset from Snapdragon in the form of the Snapdragon 820 and feature a 16MP rear camera and an 8MP front shooter. There will be a fingerprint scanner that promises to unlock your phone within .2 seconds as well as fast charging on board. This fast charging is what, we assume, has been referred to be Dash Charge.
There are a few bundled offers on the device, from the likes of Saavn, Idea as well as an option to purchase an accidental warranty when you pick the OnePlus. The device, like every other OnePlus phone, the OnePlus 3 will be exclusive to Amazon and will go on sale starting tomorrow, that is June 15th. This time, there will be no need of an invite or any complication for you to pick the phone. As long as the device is in stock, you can go ahead and purchase it off.