After not such a successful run with the OnePlus 2 or the OnePlus X, the year 2016 is going to be really important for OnePlus in order to prove that the success enjoyed by the OnePlus One was not merely a flash in the pan. This puts a tremendous spotlight on the OnePlus 3, the upcoming smartphone from the labs of OnePlus. It has already been confirmed by their CEO, Carl Pei that the OnePlus 3 will feature a radically new design and that it will be launched sometime in the second quarter of 2016, most likely giving an indication for a May or June launch.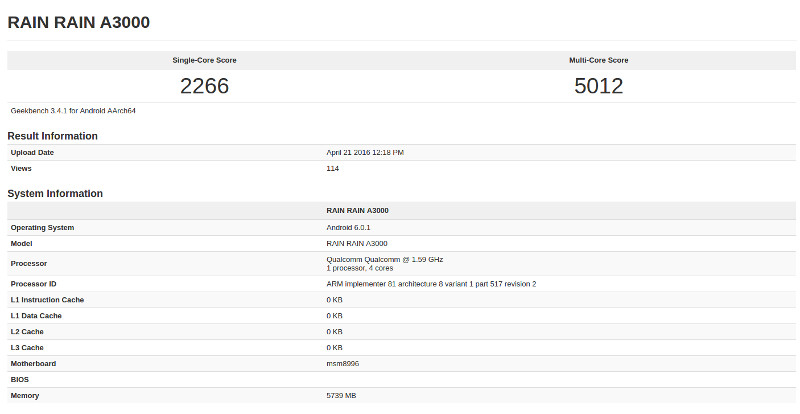 And with the launch date looming large, and the internet being the internet, there have been some leaks around the device already. The most recent one comes from Geekbench where the phone was spotted giving away its pricey internals. The device showed up with a 1080P resolution, 5-inch display that is powered by a Snapdragon 820 SoC and bundled with a mammoth 6GB of RAM.
Alternatively, there would be a 4GB RAM variant too with 32GB internal memory, most likely to be priced lower than the marquee 64GB ROM/ 6GB RAM device. The camera on the phone is expected to be 16MP on the back and 8GB on the front, and there will be a fingerprint scanner included with the OnePlus 3 too. Just like the OnePlus 2, it would ship with Oxygen OS and come with Dual SIM support. While the battery capacity is not included in the leak, but you could assume the same to be more than the 3,000 mAh mark at the very least. On the outset, a flagship device running a 1080P panel does not look too enticing, but everything other than that, here looks a winner at least on paper. Will that happen, when the OnePlus 3 comes out and whether the OnePlus 3 will indeed be a flagship killer or just another Android phone out there.