In the nineties, life was offline. Our physical presence was required to accomplish most of the tasks. Be it banking or shopping or education, we had to be there. With the dawn of the digital age, our bodies got replaced by our log-ins, choices increased exponentially and delivery of products and services at the comfort of our homes and offices ensured that we utilize our time optimally. It was a new way of living. It was not surprising that people around the world welcomed this lifestyle with open arms. In India, with ever-increasing population, not having to travel to the bank or shopping mall or for education was like a dream come true.
The millennials or the people born between 1980 and 2000, were the first to accept the technological age. They found it illogical to travel for things which can be done by the click of a button or tapping an option in a mobile app. The education sector is rapidly moving online. KPMG and Google published a report about online education in India. Here are some highlights:
"India's online education market is set to grow to USD 1.96 billion and around 9.6 million users from USD 247 million and 1.6 million users in 2016."
"Test Preparation will be the fastest growing category in 2021, growing at a CAGR of 64%."
This expected growth can be attributed to a plethora of reasons: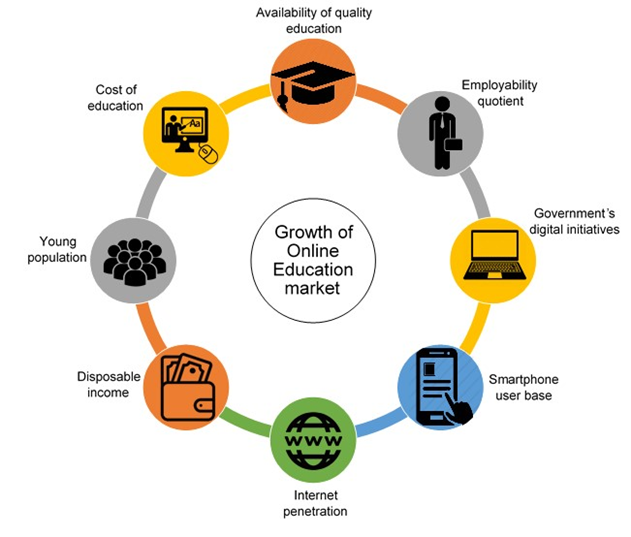 Test Preparation                                                                          _      _
Picture this –
India is the second most populous country in the world with a population of 1,284,759,745 and counting.

There is an increased thrust in furthering the qualification among students from Tier II and Tier III cities.

Institutes across the country are upping the ante every year to ensure that they offer seats to the best students available.

Online exams have made malpractices obsolete due to technological advancements.
In such a scenario, a student preparing to appear for a competitive exam gets the bitter taste of competition at a very young age. Here are some statistics that students battle to get the coveted degree / job:
| | | | |
| --- | --- | --- | --- |
| 2016 | Number of applicants** | Number of seats** | Chances of success |
| SSC CGL         | 14,00,000 | 10,750 | 0.77% |
| CAT | 2,32,434 | 2,600* | 1.12% |
| CLAT | 45,000 | 2,164 | 4.81% |
| AILET | 16,777 | 70 | 0.42% |
| IBPS PO | 10,00,000 | 8,800 | 0.88% |
| SBI PO | 25,00,000 | 2,200 | 0.09% |
| JEE Main | 12,07,058 | 12,966 | 1.07% |
| AIIMS | 1,89,357 | 7,137 | 3.77% |
* top 6 IIMs
** approximate numbers
This is tough to say the least.
A long time ago – not when Neanderthals roamed the Earth – but before the internet wave swept the world of its feet, preparing for competitive exams was a different ball game. In the pre-internet era, coaching for competitive exams was limited to brick and mortar classrooms headed by local mentors / teachers with years of experience behind them. These classrooms soon got replaced with online platforms which offered courses to help students prepare for such examinations through digital mediums.
There are many proponents of the classrooms learning system who still believe that physical presence of the teacher surmounts the benefits offered by the digital options.
Let's glance through the pros and cons of both mediums: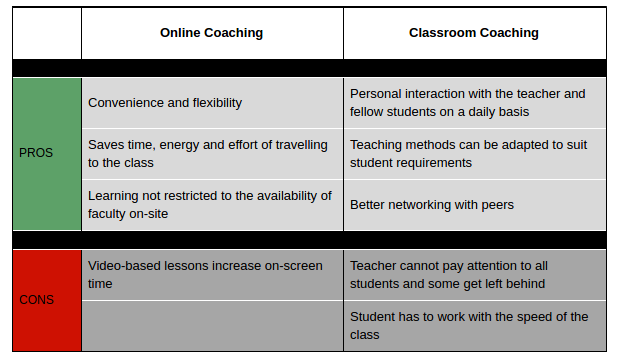 While some students might not be comfortable with the idea of learning through video lectures, the pros of online learning clearly outweigh the cons.
Flipped Classrooms
The best of both the worlds! Here is how it works:


Source
There are many innovative ways in which teachers are 'flipping classrooms' but broadly it encompasses:
Teachers recording and posting video lectures online. NO LECTURES IN CLASSROOM.

Students view the videos at home, either on their computers or mobile devices.

The lectures are a precursor to the activities in the classroom which the student prepares for before going to class.
Flipped classrooms should NOT be confused with online classes. I repeat –
Flipped Classrooms ≠ Online Classes
While flipped classrooms rely on technology to deliver lectures, they expect students to be physically present in classrooms to analyse and share their understanding of the concepts. Online classes, on the other hand, use technology to communicate with the students through voice / video calls and eliminate the need of being present in the class physically.
The reason why online classes are doing better than flipped classrooms is that a student in a distant / remote town can benefit from the teachings of mentors present at a geographically different location.
The final two cents                                                                      _                                _
The competition in the competitive exams is really getting competitive with every passing year and if statistics are to be believed, then it will only get tougher. Everyone works hard and burn the candle at both ends to crack these exams. Success comes to those who utilize their time optimally.
Online courses, like the one offered by ExamVictor, are designed to help you work smart and hard at the same time.  A stellar faculty of IIT – IIM graduates, live and recorded classes, test series and practice study material at affordable costs are some of the reasons students are opting for online courses with the institute. All content is made with ExamVictor's unique NoMug™ approach which helps in developing concepts from basics. ExamVictor believes that –
"If students can't learn the way we teach, then maybe we should teach the way they learn."
– Ignacio Estrada
Remember, time is undeniably the most valuable asset and wasting time when you are preparing for a competitive exam, is nothing less than a cardinal sin. We all get 24 hours in a day – how we use it determines our success. So saddle up and put your best foot forward!