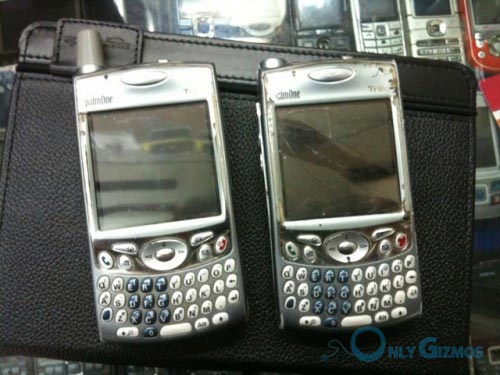 Its a well known note in tech circles around in Mumbai that I am a biased Palm fan and have supported it without even handling the Palm WebOS until last month. My love for Palm goes back to the old Treo days when I was a retailer and not a blogger. I used to be one of the very few sellers in India dealing in Palm and other PDA devices ('antiques' as they were called in the market). While I explored a niche of smartphones half a decade ago, as a user what swayed me away from the Windows Mobiles and other popular paltforms was the Treo 650 from Palm.
While I also had my time with the Treo 600, the Treo 650 remained my primary handset for a long time. Being a ardent biker I actually dropped and broke as many as 3 Treo 650's … only to go ahead and get another one. Towards the end of the 3rd device I was left with a Treo 650 that was badly bruised / scratched and cracked and the only thing that kept it together was the carbon fiber skin sticker (popularly called the Spiderman 3 cover by people around me) which acted as a cellotape to hold the back cover with the main body.
What followed after that were the E-series from Nokia, wherein the only thing that impressed me was the sturdy body, battery and keyboard. No Internet or touchsceen on them… making me wait for something magical from Palm to come out. The open letter to Palm and the response kept me alive and when finally the day came when the WebOS was unveiled, I was certain – This is what I want!
Being a small company based in India didn't help my luck. There were no signs of an official release in India and to begin with no GSM version of the Pre. After a long wait and being proven wrong when I rubbished the prediction that Palm Pre would be an 'also-ran' in the smartphone market, we finally saw HP acquiring Palm. I was so crazy and sure about the success of Palm that I had inquired for options to invest in a US stock sitting back in India. Though that didn't happen, I finally got my opportunity to get a Palm Pre Plus during my US visit last month and I grabbed a couple of them off eBay only to realise that it's not the dream phone, earth changing, awesome gadget that I always wanted. I went ahead and ordered a spare battery, read out all battery improvement tips and played around with it for hours only to realise that I did far more work on the phone even with my 1st Gen iPhone 🙁
Fast forward a little and I am sitting in my office here in Mumbai configuring my iPhone 3GS and gearing up to put the Palm Pre Plus as a spare one… Been restless for years to get that one stable smartphone which I could hold, such that it makes me complete, I have made the choice for now.
My love for Palm is no less but the wait has certainly elongated. If there was a phone before the iPhone that allowed me to do some internet and emailing on my mobile device it was the Treo 650. My hopes and expectation from Palm were perhaps way too high to begin with. I have no option by to sit on the fence and wait a little longer for HP to run some magic on the WebOS even as the Palm DNA is flushed out of the company post-merger.
But if there is something HP-Palm can do, I want them to do things that makes sense. The UI concept and multitasking on the WebOS  is perhaps the best I have used, but there is a lot more to fix and build upon before I can go out there and tell the world – I got my dream.
Incidentally its only today that I had to read this:
A dreamer who knows how to make them possible… a dreamer who does not cry when the dream fails but smiles to get back to dream and work harder… a dreamer who dreams and still does not get carried away from reality…
PS (All I want to say here): HP – don't mess up with crazy concepts. Just deliver a good, stable, powerful smartphone platform and hardware. Tablet second!