When it comes to mobile back accessories, I would not prefer a hardcover on my phone's back nor the transparent and blingy ones. The reason for the same is that, it makes my phone (Samsung Galaxy Note 3) heavier, tougher to handle. In such cases, an accessory like 'PopSockets' comes really handy.
You may be curious, as to what exactly is this PopSockets that I am talking about? PopSockets is an expanding socket which sticks to the back of your phone. It can be expanded in two stages to suit your need and comfort. Once mounted, the socket adds grip to your device so that you can hold your phone without your pinky finger taking all the weight of the phone. Another benefit of using PopSockets would be better selfies! This is especially useful if you have a large phone, as PopSockets helps you to easily reach out the screen for selfies without awkwardly stretching your hands.
Aforementioned, the PopSockets expands in two stages. The first stage can also be used to wrap your earphones around it. Nifty, isn't it? The second stage, provides you with adequate grip for your gadget. The PopSockets once mounted, can be easily re-positioned as per your convenience.
Apart from providing the grip, it gives your phone adequate support to stand independently. This is especially helpful if you want to take a neat product shot of your phone, like we every so often do. The makers of the product call it a conventional stand. It could easily balance my Note 3 vertically or horizontally.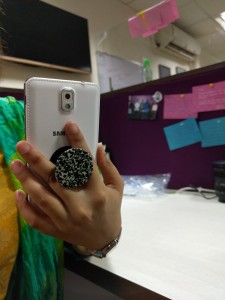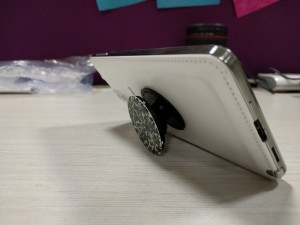 The only downside of using the accessory was when I wanted to quickly slip my phone in the pocket and the phone would either bulge out or just simply get stuck in the fold.
One can mount two of these on the back cover which will also allow you to fix your phone by the edge of your laptop screen, though not sure why would you want to do that. The company communicated that it also has a complimentary  stand, in which you can easily tuck your phone with PopSocket. You can use the stand on the car's dashboard or on the desk to keep your device erect. The review unit we received was grey in color though the product does ship in a bunch of other cool options.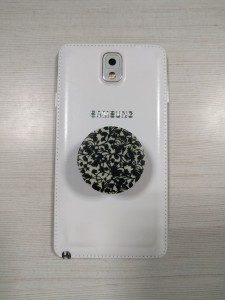 The product is sold in India only via Upbeatz. If you would like to order one for yourself, you can get a flat 20% discount through the code: ONLYGIZMOS20. You can view their collection here: PopSockets