On the ocassion of Make in India which kickstarted yesterday, Samsung is celebrating by selling their smartphones on the downpayment of Re. 1 and the rest to be paid in EMIs. The company further states that it is offering 10% cashback on Debit and Credit cards. It will be available for all EMI and non EMI transactions. Also, the company states that they are offering zero percent EMI for 3, 6, 9 and 12 months tenure from leading banks. However, the offer is only for the people who decide to pay the remaining amount via Baja Finserv or Capital First. You can purchase the phone from their official website: Samsung 'Make in India Celebrations'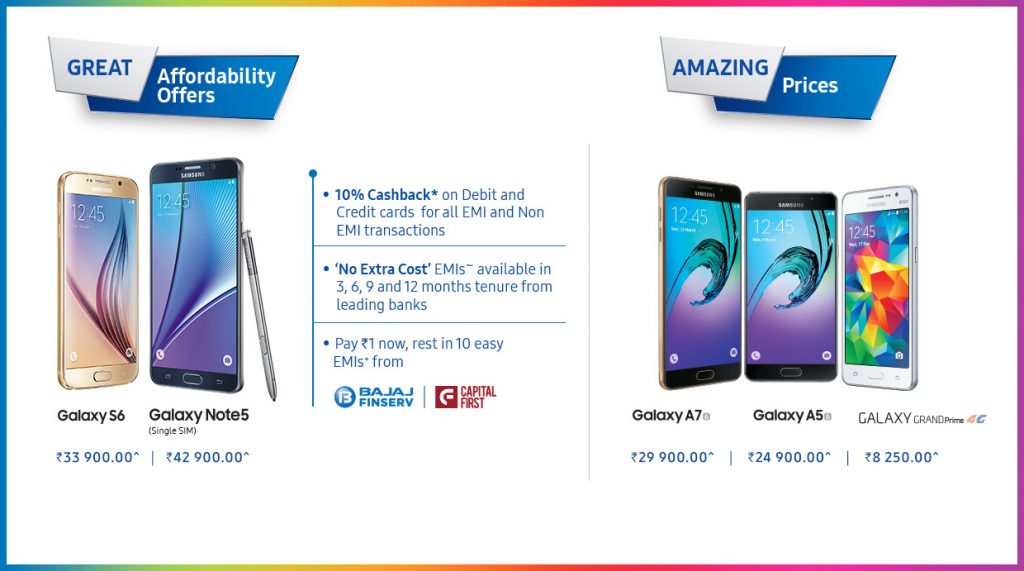 The 'Re 1' price offer which begun from 29th April will be available till 15th May. Samsung's two flagship phones are also featured in this offer i.e the Samsung Galaxy S6 and the Samsung Galaxy Note 5. The Samsung Galaxy S6 which was launched last year in March comes with a 5.1″ QHD Super Amoled display, has Exynos 7420 SoC & 3GB of RAM. The phone has a 16MP primary camera with OIS, while the secondary camera is 5MP camera. Whereas, the Galaxy Note 5 which was launched in September, last year is also available for a price tag of Rs. 42,900. The phone sports a 5.7-inch QHD display, has Exynos 7420 SoC and 4GB of RAM. It comes with a impressive camera of 16MP and a secondary camera of 5MP Camera.
Users can also avail the price-cut on the Samsung Galaxy A Series as a part of this celebrations. The Samsung Galaxy A7 is available at Rs. 29,900 and the Galaxy A5 carries a tag of Rs. 24,900. The 4G phone i.e the Samsung Galaxy Grand Prime is available for a price of Rs. 8250. Apart from mobile phones, Samsung has also kept an offer on it's LED TV where the company claims a cashback of 20%. Along with it there are offers on microwaves, refrigerators, air-conditioners and washing machines.