With every new version of Android, we have rising expectations of some different, perhaps new features. And, Google has surely lived upto the mark with the introduction of Android 5.0 Lollipop. When announced we were curious about these new features but are they to the par in efficiency. We had a chance to get our hands on LG Nexus 5 which got an OTA update of Android Lollipop. Here are some of the features which impressed us:-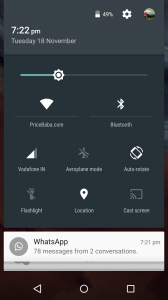 Notifications: To start off with, Google has made considerable changes to the Notification panel. The lock screen panel which previously used to have a unlock button and camera will now show you your notifications as well, much like iOS. The notifications are white in background now like the app drawer. It has also included a shortcut to the dialer on lock screen.  There are buttons for flashlight and rotate now.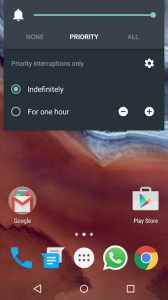 Priority Notifications: Did you anytime wish you could have a Mute button like the one which exists for Whatsapp's group or a 'Do Not Disturb' mode. Well, Lollipop has not only modified the notification panel but also given the user a setting which we all will be thankful for i.e the Priority Notifications mode. It lets you decide priority apps for which you want to be notified. You can tap the the volume slider on your device to activate priority mode indefinitely or for one hour (a star will appear in the status bar). Head to Settings > Sound & Notification > App Notifications and choose which apps should be able to give notifications in priority mode.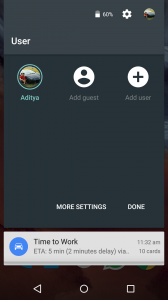 Guest Profiles: One of a significant feature is having a different profile for your phone which is something one always used on a desktop. By creating a new profile you get the authority to link it to a new Google account, have your own different gallery, have your own set of contacts. Basically, It lets you have a different phone without actually having one. So one need not think twice while handing out his phone to colleagues, friends or kids; he simply can put the phone in Guest Profile and give.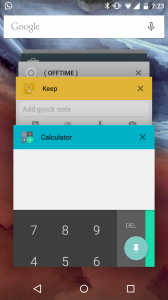 Screen Pinning: Another feature which we found unique is Screen Pinning. If you want to hand over your phone, you can "pin" an app and hand it over to your friends. Once activated the feature from the Settings, you can pin an app by pressing the square overview button and dragging the pin to it from the lower left hand corner. While activating the pin you'll be asked if you want to use a lock code or a pattern to unlock it. It is the same security lock code or pattern which is applied to your phone. One can only get back to the home screen by pressing the overview and the back button together.
These are some of the helpful features which we think run smoothly on our LG Nexus 5. You can watch the video below to have a look at the detailed review which explains the new flavours of Lollipop: