Apple's WWDC event is where the Cupertino giant reveals its plans to its developer community. At the event held yesterday, there were lots of announcements made for each and every type of operating system that Apple builds.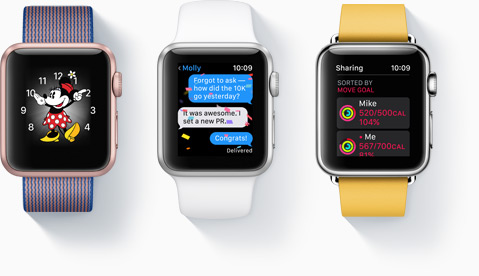 The first one was for the Apple Watch. While most enthusiasts were expecting a new watch to be unveiled the event introduced the WatchOS 3. The new OS improves the functionality of the Apple Watch. A new feature called Instant App Launch improves the performance of the watch by 7 times. Clicking the apps on the watch face results in a faster launch. Apple also showcased some of the improvements with respect to fitness tracking on the watch. Current fitness stats can also be shared with friends and family using the new share function built into the OS. SOS was another feature introduced which would call emergency services (911) from the watch with the press of the button. The call will then be made from the iPhone or from the Watch itself when connected to a WiFi network. The Watch will then display the Medical ID to help first respondents.

Another big change was introduced in OS X. To keep the naming in line with watchOS. tvOS and iOS, OS X was renamed to macOS. The next version of the operating system was also introduced at the event called Sierra. One of the highlights of the new OS is the introduction of Siri on the Mac. Users can now summon Siri on the Mac and it'll respond to your queries in typical Siri fashion.

Apple's new phone OS called iOS 10 was also introduced at the event which brings changes to the iPhone. Apple has done some major redesigning work on some of its apps like Apple Maps and Apple Music. They also released a Siri SDK for developers, to allow other apps to implement support directly. Notifications are made more responsive with the new OS and the screen will light up to display notifications as soon as the phone is picked up. On devices with 3D Touch like the Apple iPhone 6s and the 6s Plus users can press down on the notifications to reveal more details.
Photos got an update as well and the app can now distinguish between faces and can detect scenes and objects. iOS 10 also brings the option to uninstall some of the pre-installed apps that come with the phone allowing the user to reclaim some storage space.
While the developer versions of all the operating system will be available soon, device owners can expect a stable update on their devices in a couple of months.