We have already spoken about the bad shape RIM is in financially, after they posted a net loss for the first time in the last 8 years. And now a ComScore survey also confirms the same and shows us how bad it is with a reflection on their market share in the report.
The survey that had taken place over the period of three months, starting from February 2012 to May 2012, discussed not only the Smartphone Platform Market-share, but also the Smartphone Manufacturers Share along with the Mobile content usage.
When it comes to the Smartphone platform, Google's Android is undoubtedly the winner with a 50.9% of market share, followed by Apple's iOS at 31.9%. While both the platforms have shown an increase of 0.8 and 1.7 percent respectively in the the past three months, RIM with its BlackBerry has shown a drop of 2% from 13.4% in February to 11.4% in May. Microsoft with its Windows Phone OS is moving upward, albeit at a very slow pace with just an increase of 0.1% from 3.9% to 4.0% within the three month period. The least used platform on smartphones is Symbian, will soon fade into the oblivion after Nokia stops making any devices based on Symbian, and its losing its subscriber base quickly as well being currently at a measly 1.1%.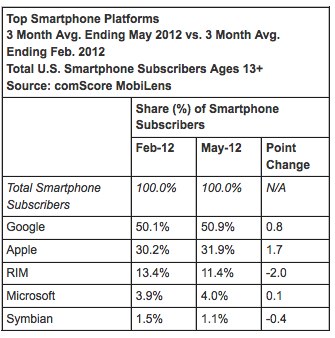 Now, let's look at the market-share of the device manufacturers, which includes smartphones as well as feature phones. In this segment, the Korean giant Samsung takes the lead at 25.7% with an increase of 0.1% in the past three months, followed by LG at 19.1% slipping down 0.3%. However, if Apple keeps on increasing at the rate of 1.5% from its current 15% market share it may soon take over the second position from LG within a few months. Slipping down the charts at the bottom two are Motorola and HTC with 12% and 6.1% market-share respectively.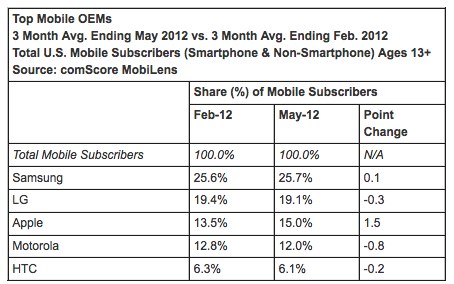 Although Motorola's fall is understandable, it's surprising to note how HTC has still not managed to reverse its decline with the help of some amazing devices in the One series which includes the likes of the One X followed by the One V and the One S. These devices has managed to impress one and all, also the One V is considered as the best mid range smartphone at present in the market.
We expect Motorola to show some positive growth especially considering the fact that they have already managed to roll out the ICS update for their flagship Razr series and also the fact that they are now a Google owned company and hence future software updates should be rolling out much faster to them, especially considering that Android fragmentation is one of the key factors that hinders the sales of any Android smartphone.
RIM losing its grip in the smartphone market: comScore Survey