Samsung today denied any involvement with the recent flashmob stunt that caught the attention of the media all over the world, after a group of people gathered outside an Apple Store in Sydney holding billboards with "Wake Up" written on them.
Reports suggested that it was Samsung, which had organized the flashmob outside the Apple Store in Sydney. The incident occurred on Thursday when the group of mock protesters arrived in a huge black bus with "Wake Up" written on it arrived in front of the store and the flashmob immediately stormed out shouting the Wake Up slogan holding black placards with the Wake Up written in white on them.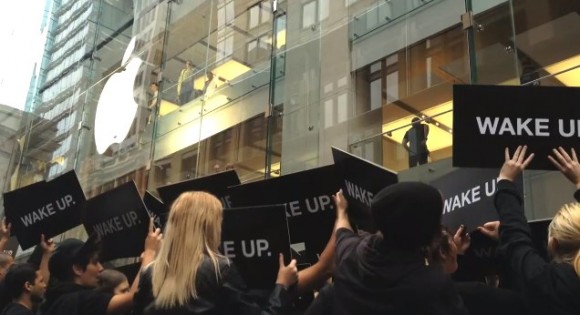 Tongue, a local Australian ad agency, is believed to be behind the incident working on behalf of Samsung to promote their latest smartphone Galaxy SIII, which is expected to be launched on the 3rd of May.
Here is a video of the "Wake Up" flashmob incident recorded by blogger Nate Burr.

It is but natural for one to presume that it is Samsung behind this incident after considering the fact that they have been consistently targeting Apple customers in their ads, calling them "mindless sheep" in one and mocking their customers standing in a queue in the other.
Well, many would like to imagine it was Samsung behind the incident, as it adds more spice to the battle that Apple and Samsung have been fighting out in the courts and off it as well to lead the smartphone market.