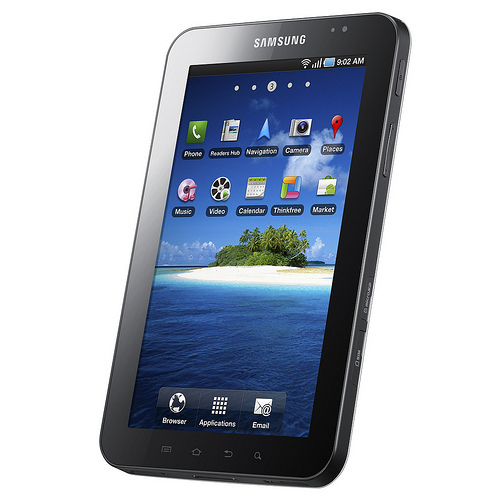 Samsung has finally gone official with its android tablet, the Galaxy Tab (GT-P1000). Powered by the latest build of Android OS (2.2 Froyo), Samsung Galaxy Tab certainly leaves a mark on the industry with its launch. While we have seen dozens of prototypes and announcements, this is certainly the most high profile and capable release since the original Apple iPad. That makes it impossible for us to not compare the Apple Gizmos with the Galaxy Tab. Lets take a quick look at the Samsung Galaxy Tab Specs:
7″ TFT-LCD, 1024×600 resolution
1Ghz Cortex A8 processor
PowerVR SGX540 3D graphics processor
Android version 2.2
1.3MP front camera, 3MP rear camera
3G HSPA, Bluetooth 3.0, WiFi 'n'
Video calling, SMS / MMS
HD video playback
Swype keyboard, Adobe Flash, Readers Hub, Music Hub
4000 mAh battery (7 hours movie playback)
Wt. 380 gms
Samsung perhaps has the best time to come out with the galaxy Tab. Firstly there aren't any worthy competitors in the market yet and the holiday season is right up ahead. What adds to their offering is the fact that they are able to ship the latest version of Android OS. This may add some weight to the functionality, but certainly adds a lot of mind-share. Samsung has a SIM / 3G support in here and they have promised to come up with carrier tie-ups soon. The second leg of the race would be about content and it seems that Samsung has already made efforts to get the developers on-board and now what remains to be seen is the presence of e-book providers and newspapers / magazines on the Galaxy Tab.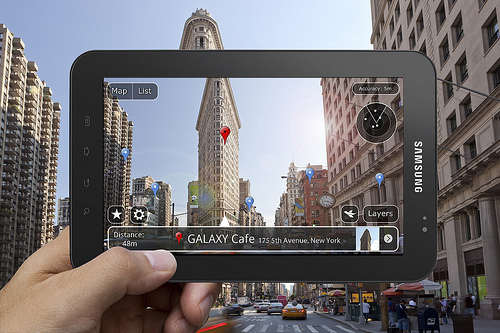 But its a tablet…
When I reviewed the iPad, I perhaps had a different view of the industry. I concluded that I ain't made for the iPad and I do see a lot of people around me who love the iPad and use it daily. But not one of them uses the iPad to create content that is significant enough. My thoughts here can be inconclusive for multiple reasons. Perhaps I ain't at a stage where I see the need for a tablet. Heck, I have an iPhone with less than 10 apps installed and no music loaded (ok blame some of that to the poor battery life on my old 3GS). I use an Kindle for book reading and find it much better while going around in bumpy auto-rickshaws in Mumbai or just carrying it around in a case. iPad for comparison sake isn't as portable and that might be an area where the Samsung Galaxy Tab might score.
Features like Swype on this screen size should allow us to hold it like a normal cellphone and input text. Playing games on this form factor would also be good, specially given the weight reduction it offers (compared to the Apple iPad).
Without beating around the bush, is this an iPad killer?
For me if this can do internet surfing as good as the iPad+ Amazon and others support it officially for ebook reading, this might well be! Let aside the UI argument, I want to use it and use it as I want.
The only thing that can ruin the part for Samsung is the price. Apple sells the iPad for $499 and above. While the Galaxy Tab as we hear is costing upwards of $900.
…but if you ask me the need for a tablet, I still don't get it. My iPhone does enough, if I want more from a handheld, I would add a battery pack to my iPhone.