Wouldn't it be good to have an embedded memory unit in your smartphone which offered  big storage space? Wouldn't you like your smartphones to be faster and yet power efficient? Samsung might just have a solution for that. Samsung announced a 128GB 'ultra fast' embedded flash memory unit for smartphones. It has also revealed its plans to mass produce these units. These chips are based on Universal Flash Storage (UFS) 2.0 standard. This development will definitely serve justice to the latest processors which are capable of pacing the IO speeds to impressive levels.
Samsung claimed that these chips will prove efficient in multi-tasking purposes. UFS 2.0 standard offers multi-lane serial bus for data transfer. It claims to provide a throughput of up to 600MBps at its best. But Samsung's memory units uses two serial channels, which makes it to give out a throughput of 12MBps.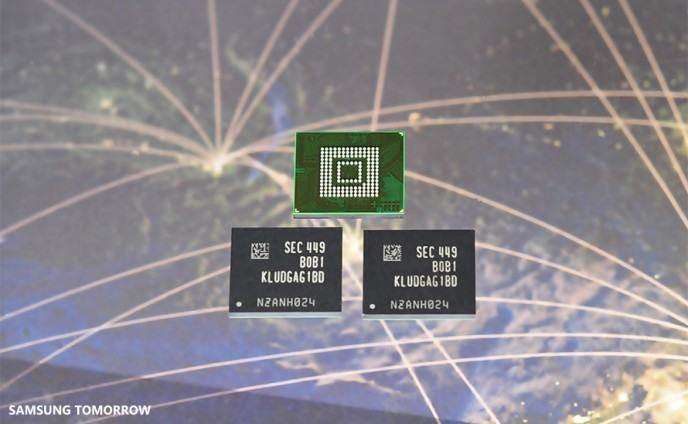 Samsung said that these new memory units will offer about 2.7X speed when compared to the latest eMMC flash memory when it comes to sequential read rates and about 2X the speed for random read cycles. These UFS 2.0 based memory units also integrates Command Queue technology. This will enable the chips to hold the command execution and re-prioritize based on the needs, making it smart enough. Such feature is bound to increase the performance of the devices.
The memory unit can perform up to 14K IOPS (input output cycles per second), which is about 28X times faster than conventional memory cards. Samsung is touting that this will make the new memory units to be smoother in operation for ultra-high definition video streaming with being improved in power efficiency.
Such embedded units are designed for Samsung's flagship devices. And Samsung's much hyped, Galaxy S6 is reported to sport these units embedded making the S6 worth the wait. This news comes after Samsung deciding to end its partnership with Qualcomm and use its own processors.
Knowing that they are the world's largest manufacturer of NAND/SSD flash storage modules, this development is a milestone for itself and the industry as a whole. Such proceedings are not just about crunching numbers but offering more power to the users by giving out a smartphone experience like never before.