After capturing the market with its wide range of Dual SIM capable feature phones in India, Samsung is looking to consolidate its position in the smartphones sector as well. As a part of this strategy, they have announced the launch of three new smartphones in India. The USP of these new devices is that they are all dual SIM capable. Until now, Samsung's dual SIM handsets were all feature phones.

The new handsets that have made their debut include the Galaxy Ace Duos (SCH-i589), Galaxy Y Pro Duos (GT B5512) and Galaxy Y Duos (GT-S6102).
The top of the line dual SIM smartphone is the Galaxy Ace Duos which is a CDMA+GSM handset. The phone is powered by a Qualcomm MSM7627 processor which crunches numbers at 832 MHz. The front is dominated by the 3.5 inch display which has a resolution of 320*480 pixels – which if I may add is on the lower side. There is a 3.15 megapixel camera at the rear which we presume should suffice for casual imaging. Note that on GSM networks, there is no support for 3G and will provide only EDGE speeds. On CDMA, there is support for EvDO Rev A which can support download speeds of up to 3.1 Mbps. The phone packs in a rather large 1,650mAh which is acceptable to offer a talk time of 7 hours. The Galaxy Ace Duos has been priced at Rs. 16,900.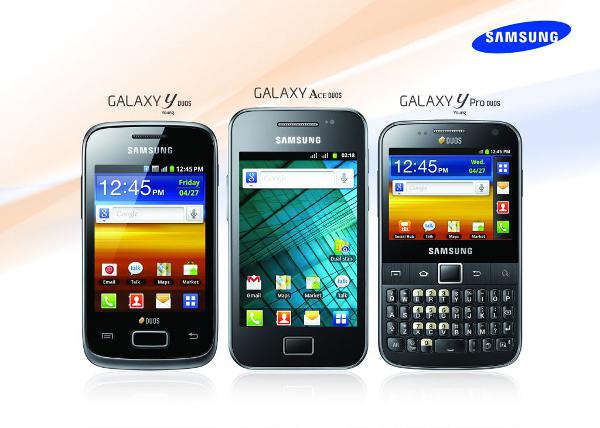 Next up is the Galaxy Y Pro Duos which is Samsung's 1st Android based Dual SIM QWERTY bar device. The phone also gets a capacitive touchscreen display and would suit users looking for a dual SIM handset with a QWERTY keyboard and a touchscreen. There is a BlackBerry–esque trackpad at the center for navigating the menu. The screen on this device measures at 2.4 inches across. At the rear is a fixed focus camera that can capture images at 3 megapixels. It also doubles up as a camcorder capable of recording videos at VGA resolution. The Samsung Galaxy Y Pro is priced at Rs 11,090/-. Oh, and lest we forget, the device runs Android 2.3 Gingerbread.
The third dual SIM smartphone to be announced is the Samsung Galaxy Y Duos (GT-S6102). The phone comes with a 3.14" display and packs in an 832 MHz Processor. Unlike the SCH i589, this one is a GSM only dual SIM handset. Other features on the GT-S6102 include a 3.15 megapixel camera at the back with support for QVGA video recording. The phone runs Android 2.3 Gingerbread and has been price at Rs. 10,490/-.
Samsung Galaxy Y Duos Lite Video Overview