Earlier in the week Cisco announced that they'll be killing of the Flip, the unique line of Video Cameras. There can only be one proper explanation for this move is that the Flip was selling poorly and couldn't sustain their business. Pocket Cam might become endangered because of smart phones with the ability of shooting videos & capturing pictures. It is evident that smart phones have killed the Flip.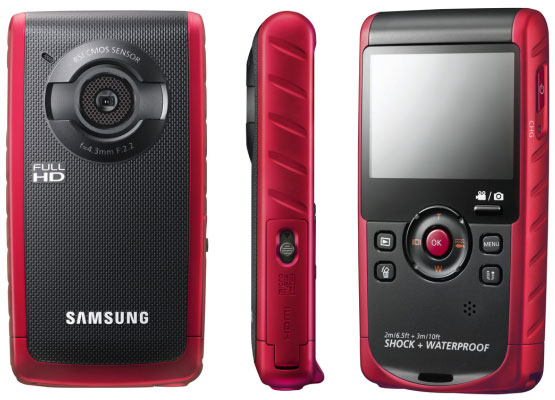 However, its competitors have not thrown the towel and have taken a step further to launch alternate devices.
The Samsung W200 is the new video recorder which you can carry in a pocket; question remains why carry two devices when you can do it in a smart phone? The answer is in its Waterproof ability. Yes, when you want to click pictures of you and your groupies in a pool or stuck in rain, you can do it in W200. This silences your unnecessary worry about damage to your smart phone due to water.
The W200 can handle being submerged in up to 3 metres of water and therefore will face the rain with as much daring as a Spartan would face their enemy. The waterproofing is taken care by an anti-water drop coating that covers the device and also protects the 2.3-inch 230K LCD from misting up with condensation. This makes it easy for us to see what is captured on the built-in display while shooting in wet conditions.
The SD card slot makes it very useful equipment since it allows us to capture videos/pictures across multiple cards. The only turn off is the battery as it only can record continuously for 2 Hours and would require recharge. There is a USB connection for transferring data to a PC/Laptop and HDMI for output to a Television. It is about to hit the market at the end of May and is quoted to cost Rs. 10,000/- (USD 200).
Specifications of HMX-W200
Image Sensor: 5 MP BSI* CMOS Lens 1x, AF
Lens: F2.2 Bright lens (Great results in low light conditions)
LCD: 2.3" 230K(QVGA)
Video Resolution: 1920×1080
FPS: 30p
Photo Resolution 5.5 Mp
Digital Image Stabilization
Storage: Micro SD/SDHC
HDMI: Yes
Battery: 1300mAh (2hrs)
Size: 60 x 113 x 19.7
Weight: 130g (with battery)
Special Features: Waterproof (3m), Shockproof: (2m), Built-in USB
*Black Side Illuminated
Editors Note: The 3D pocket cam that Aiptek sells for $200 or less is another way in which these low cost cams can sustain. But eventually, its true, smartphones will kill'em.
Samsung W200 Camcorder To Release In May