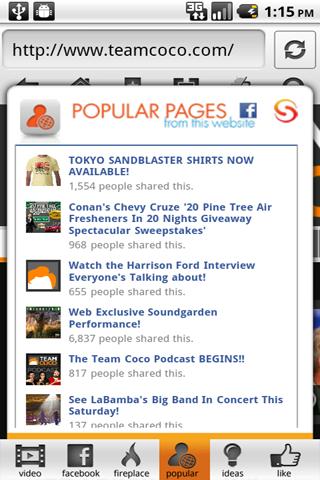 The last couple of days have been busy for Android users with two of the most popular applications on the Android market, the Skyfire browser and the official Facebook app for Android getting updates.  While both seem minor rather than major updates, they each add some features to the existing package. Both are available for free download from the Android Market.
In the case of Facebook, the update (taking the app from version 1.5 to 1.5.1) adds Facebook Deals to the app, allowing users to get information about attractive deals and discounts once they log in to Facebook Places (alas, India is not supported yet), and also fixes a number of bugs. Chat and push notifications continue to be available for Android 2.2 and above devices, although judging by our experience and those of other users, they continue to be inconsistent. Clearly all those bugs have not been fixed yet, which means another update (sigh).
Meanwhile, Skyfire, the browser best known for its super handling of Flash and video, has received an update, taking it from version 3.0 to 3.2. The most significant change here is the addition of a search box to the top of toolbar, which lets users get search results not just from Google, but also Facebook, Twitter, Amazon, and also videos. The browser has also built on its video strength, adding support for more sites and video players, including the BBC's iPlay in the UK. There has been a lot of debugging done too, especially in the areas of crashing, download and saving of files. The new search box is happening, but we still wish Skyfire were faster, although it remains the best option for viewing online video within a browser.