The rumor mills are busy churning out the possibility of a Surface branded smartphone in the works by Microsoft. And when Nokia's CEO Stephen Elop was confronted by this question, his response was as bemusing as his leadership of Nokia has been.
Stephen Elop responded by stating that a Surface branded smartphone would actually help spur the Windows Phone 8 ecosystem. He even went on to add that other OEM manufacturers are welcome to be a part of the competition as it would only help stimulate the growth of the app ecosystem and give it the much needed boost against other platforms like the Android and iOS.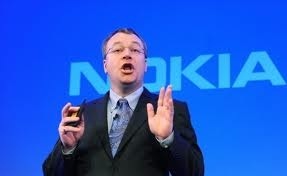 With the Surface tablet slated to be launched with the Windows 8 platform this month, it remains to be seen as to how a home grown device by Microsoft actually impacts other OEM's. The news of the Surface tablet competing against theirs wasn't particularly well received by the OEM's and we expect a similar backlash once the Surface branded smartphone is launched.
Though, Microsoft might play smart and launch the Surface phone well after the OEM's have launched their respective Windows Phone 8 offerings, thus allowing the Windows Phone 8 ecosystem to settle in. Microsoft's CEO, Steve Ballmer recently spoke of a fundamental shift, giving strong indications on the possibility of the Surface phone.
Microsoft is said to be working closely with one of the OEM's to build the Surface phone and it might very well be Nokia that they are working with. We can't rule out with certainty of a Google Nexus style launch for the Surface smartphone.
Meanwhile, Elop says that he is happy with the differentiation that Nokia has managed to create for itself in a short span of time and is confident that they will be able to compete and come out on top with any OEM in the Windows Phone 8 platform.
I'm not sure what sort of differentiation he is speaking of at this moment with the Lumia range of phones faring pretty badly. And after Nokia surrendered one of their most important differentiators Nokia Maps to the Windows Phone 8 platform, they only have the hardware to fall back onto which though looks better than the rest is not that great to guarantee the kind of sales Nokia needs to survive in the long run.
He also spoke of Nokia possessing many "unpolished gems" in their R&D which they might unleash, should the need arise. I'd say they would do well to control their losses and stay afloat for the time being. 🙂