What strikes you first when I ask you to name your go-to music-listening app: Spotify? Er… Gaana? Saavn? Dhingana? With majority of smartphone users having a monthly internet data connection, the number of subscribers to music streaming apps is on the rise and Airtel has decided to join the race by launching it's app called Wynk.
Wynk is the first OTT (over the top) application by a telecom service provider. Unlike Gaana or Saavn, Wynk does not have a web presence. Reason being, the company wants to increase mobile data consumption and their future plans involve launching services for six different categories like Social networks, Video, Music, Gaming, E-commerce and Travel. Wynk Music is part of their category. It is available for Android as well as iOS. No doubt Gaana, Saavn and Hungama have set the benchmark high, but will Wynk live up to it? We decided to test it.
To start off with the user interface, we found it to be complicated but after using it for several times, one might get used to it. In the hamburger menu, there is my music, settings and internet radio. The option to toggle languages can be found right on top-right on the home screen of the app.
On the homescreen, the user is presented several categories to discover new music like New Releases, Popular, Top Albums, Moods, Top Playlists and Popular Artists. Wynk's music library is large enough with 1.7 million songs and we got more than the desired search results (Songs, Albums, Playlists and Artists).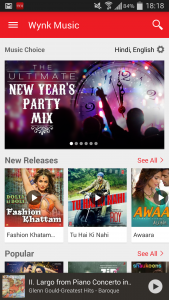 The real problem comes while adding songs to the player. In Wynk, if you click on a particular song from a list, it automatically gets added to the playlist when naturally you expect it to play instantly. To play the desired one, one needs to go to options, select 'Play Now' and then find the added song to play.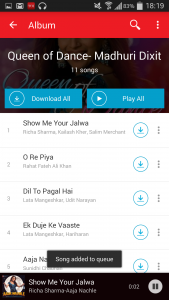 Whereas, Saavn gives you the option to Play Now instantly or add it to a queue. And, Gaana directly plays that song! This may be a problem for an user who is already habitual to playing songs instantly, but we hope an update will solve it.
The Internet Radio which Airtel boasts of is not visible anywhere on the home screen but its hidden in the hamburger menu. The genres of Internet Radio are impressive and much better than the competitors. If you're using other apps on the phone, Wynk's song controls can be accessed from the notifications panel. The thing we liked about Airtel is that unlike other apps, it did not bother us with ads. Also users can set any song as their 'hello tune' (Only for Airtel subscribers though).
For 3G users, Airtel automatically adjusts the quality of the music as per the speed of your data connection. We kept it on the highest quality and the numbers were surprisingly high in comparison to the data consumed by Gaana, Saavn and Hungama. It's best to keep the quality on auto as we do not recommend surfing on high-quality. Best option is to always turn Wi-Fi On and stream through.
Now talking about the subscription plans, Wynk offers two plans – Wynk Plus and Wynk Freedom. Wynk Plus is available at a subscription charge of Rs.99/month for Android users and Rs.60/month for iOS users. Like competitors, once subscribed you will get an access to unlimited streaming and downloads of 320kbps songs and ability to play music offline within the app. The prices for subscription are in a similar bracket but there is a good news for Airtel network users. As Wynk is an Airtel service, the 'Wynk Freedom' plan is available exclusively only for Airtel users and it offers 'unlimited' streaming and downloading without incurring extra data charges for Rs.29 as an introductory offer! A user can also download songs for outside the app playback for Rs. 5/song.
As per our first impressions, Wynk seems like an awesome bargain for existing Airtel subscribers. The company is also offering the Wynk Plus and the Wynk Freedom services absolutely free for the first month of their subscription. But will Airtel in future come up with different Internet pack just to listen songs too? Only time can tell.