YouTube, a video sharing website owned by Google makes a much needed change that every YouTuber was waiting by removing the static "301+" views count from its system that calculates video views.
You must have noticed that many popular YouTube videos used to get stuck at "301+ views" which is very disturbing when seen from the uploader's view. No matter the static count changes into accurate live count after a couple of days or sometimes few hours, it was always hard to pass that time.
The feature 301+ views which YouTube used to have was used as a proxy number while YouTube went off the verify that which number of views is authentic, and which are not.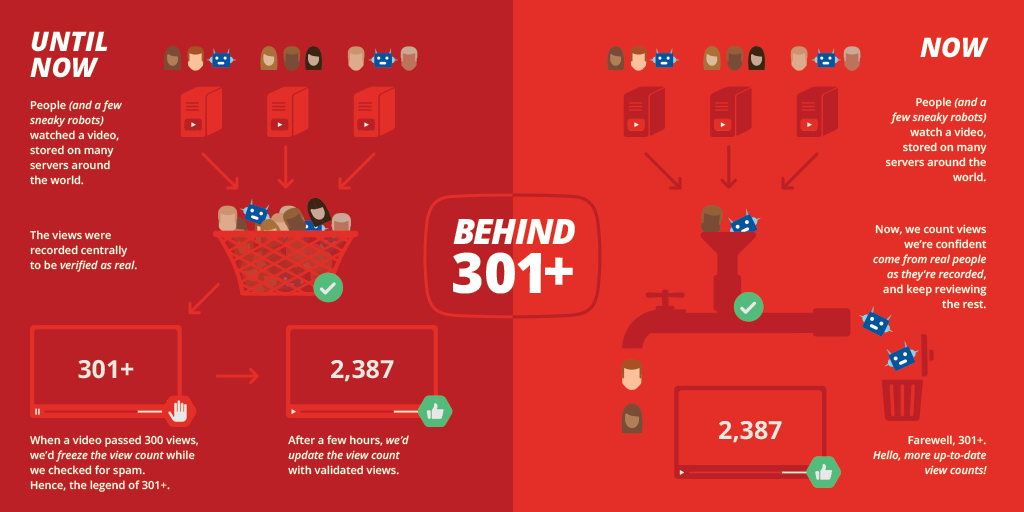 On studying the image above (shared by YouTube on Twitter) removing this feature, the video will show the real-time number of views count. The company is confident enough that the views will count real people and not the video plays by automated bots, which will still pass through a verification process without pausing the count.
From the viewer's point of view this isn't a change that would hardly make any difference, but for the creators this will be the start an era that won't keep them waiting for their videos to show-up the real view count.