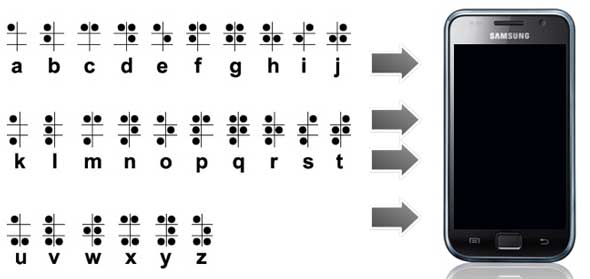 A young developer walked into our office last morning and demoed an app that has left us pretty impressed. Ankit Daftery is working on a solution that enables smartphone touch-screens to take input in Braille. Most solution out in the market today enable reading Braille on mobile, but writing Braille seems to be a first.
Ankit's solution, BrailleType is enabled with voice feedback on inputted characters and the app is currently in private beta. Braille Type in its current form is a blank input screen that accepts multi-touch inputs with a small text box to show input at the bottom. It supports all Braille gestures and also adds a space (blank) gesture to enable a smartphone form factor (there isn't any spacebar / blank key in Braille by default).
Traditional approaches have restricted written communication for the visually challenged to audio, using screen readers and dictation engines. This approach aims to allow visually challenged users to type in the same way that they read Braille.
Here is a video interview with Ankit and an exclusive demo of Braille Type's latest build:
Ankit aims to soon rollout this app as an alternative keyboard on Android and is also looking forward to get Braille Type on other platforms. Incidentally Ankit is still an engineering student at VJTI and this is the same place where we had seen the Braille Tutor last year.
It's hard to express how much we appreciate students taking on such ambitious projects, In fact right after his interview, Ankit grabbed an opportunity to visit a school for the blind near our office and got some encouraging feedback for his app. We have our eyes on BrailleType's Android market debut!