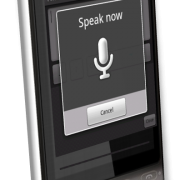 We recently reviewed Android 2.1 Update for HTC Hero but found Live Wallpapers, 3D Gallery and Voice to Text features missing. So here goes the post about how to enable Voice to Text on your updated HTC Hero.
With Android 2.1 Update to HTC Hero came many new features but some were found missing (as discussed in Android 2.1 Update demystified). One of the missing features was Voice to Text support which allows users to use voice search capabilities and allow other applications to use voice control for performing operations like reading out Messages, or changing settings by voice commands.
I have been trying to work around this and tested many different applications for handling voice search and other voice functionality, and finally I found what I was looking for. Now I am using Voice Search and other Voice to Text applications as well. Follow the steps mentioned below to enable it on your updated HTC Hero (Android 2.1):
On your Android, go to settings, scroll down and tap on Text to Speech Settings.
Now click on Install Voice Data.
After the TTS data gets downloaded and installed go to the Android Market and search for "edwin". (Edwin is a voice assistant utility).
After it gets downloaded and installed open the Edwin App. A big Microphone symbol will appear. Tap on it.
You'll then get a message that you do not have speech synthesis available on your phone, do you want to download it. Click on the download button.
Your default browser will open and the Voice Search with Keyboard application which contains the Speech Synthesis Data gets downloaded. (It is an apk file).
After the download gets completed, tap on the apk to install it.
Now you are ready to experience the Voice to Text capabilities right on your  HTC Hero. There are many different voice related applications available in the market, go wild and try them out. If you find something interesting, do mention that in comments. Enjoy you reborn HTC Hero!