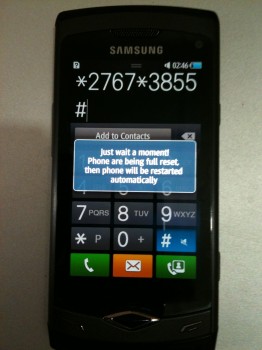 While we were quite impressed with the Samsung Wave, one problem that seems to have cropped up in the handset is the problem in doing a complete hard reset, taking the phone back to exactly the state where one bought it.
Users who have found their phone acting funny or have simply wanted to wipe it clean before handing it over to a friend or reltaive have been unable to come across any "hard reset" options in the phone.
There is a "Reset" option under Settings and also the option to "Clear Phone Memory," but according to at least four different users, these actually leave data on the device – a device reviewer (who we will refrain from naming) could not find a way to remove his/her e-mail ID from the handset, in spite of multiple Resets and Clear Phone Memory attempts, while another found his/her Mini Diary entry remaining in place.
From what we heard, neither the manual nor Samsung sales staff at different outlets seemed too aware of what to do.
Well, we have chanced upon a solution – and it is not too complex.
All you need to is actually type " *2767*3855# " (without the quotes, please) into the phone using the onscreen keypad and hey presto, it will revert to the factory state after a displaying a thoroughly ungrammatical message.