An average consumer today has more gadgets than ever before. A smartphone, laptop, camera and if you include all components you purchased when assembling PC or home appliances, the list gets pretty long. Managing their receipts and warranties is without any doubt, a challenge! So here comes an entrepreneur who promises to change this for good.
Aptly named 'Warrantify", the service launched by Haritash Tamvada aims to take all your receipts and warranties – paperless. Warrantify would be a digital repository for all your purchases and would make them available to you in an online dashboard. At the same time, Warrantify manages sales and claims for the retailer. Thus, giving them another online dashboard to interface with their customers.
Business Model
Warrantify would charge its retail network partners a transaction fees, i.e. a fixed amount for each consumer electronic device sold. It's easy and straight forward revenue model. But there is more to it.
Warrantify also allows Ad inventory in the online dashboard that consumers maintain. Having a database of what a person is buying and from where, sounds a little google like to target ads. Analytical info generated by Warrantify can be of great utility to retailers / manufacturers. "Warrantify.com provides SMART analytics concerning purchase activity, price point, timing, and competitors, etc."
Our Take
Warrantify is a straightforward concept, and it's easy to understand what they are attempting here. Every time I open a cellphone box or a gadget for review and find a warranty card in there, I wonder if it's downright 2011. But is the solution unquestionably a 3rd party solution? We have seen companies like Apple who ask no questions / receipts when honoring a warranty claim. You walk into their stores / partner service centers across the globe (you can even check the serial no online) and claim a warranty. They already have a log of when the product was sold and when the warranty expires. A simple search on the internet landed me to Dell's warranty status page. Clearly, many companies are doing it already.
If you consider Apple / Dell an exception, companies relying a little more heavily on 3rd party distributors and a dense retail chain, tracking warranties can be a challenge. But from my retail days I can recall that some companies had a uncomplicated 15 month rule. The warranty on a product is 12 months for the consumer, but it's 15 months from the date they shipped the product to the retailer / distributor. Thus, accounting 3 months for sale cycle. So a product, shipped in Jan 2011 has warranty cover until March 2012. Simple
As for receipts, I remember being offered an option to have it emailed to me instead of a printed copy when shopping for an accessory in US. Again this was the Apple Store that did it, and I see no reason why retailers across the globe won't offer this option.
For reasons mentioned above, I don't consider a warranty a weighty issue. It's something manufacturers and large retailers have to incorporate into their systems, not a 3rd party doing it. But if Warrantify can pull a BookMyShow and manage to get all leading players to use their back-end, it would be miraculous. Given the international presence of these companies and diverse retail practices, I doubt if that is feasible here.
If warrantify can get retailers to upgrade their systems and allow them to email us electronic receipts, its a terrific initiative. Having an option to see them all in an online interface is a right to have add-on over that, an accounting problem being solved for me, not a must have service.
I suspected, and some twitterers did confirm to me that digital receipts / bills can be an issue for tax / accounting purposes in India. While my CA tells me for individuals making purchases, this shouldn't be a problem in general but to achieve the dream of a truly paperless world, a little education to the Tax authorities / Accounts dept of your company might be required here!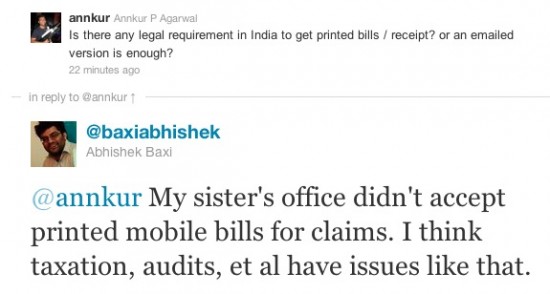 I would also believe that retailers & manufacturers won't let the failure rate of their products, purchase history etc go to a third party building a knowledge-base.