There is no denying the fact that WhatsApp is the most dominant messenger among the other messaging apps when it comes to carrying out daily conversations. But what it lacked so far was a desktop client through which one need not check their phones while being online through PC or laptops as it will hinder the workflow.
Downloading Bluestacks or any other Android emulators is not only a time consuming process but it also logs you out from your phone due to which you may lose all your conversations and literally need to re verify your number. One may also shift to Skype, Facebook Messenger or Google Hangouts because of its mobile and web integration giving user convenience. The other rival apps like Viber, Telegram, WeChat and Line already have a full fledged web and PC clients for each of their services, therfore it's high time WhatsApp introduced this feature.
Although, there is no such official announcement from WhatsApp, the rumors took pace when a recent report by Android World reported that WhatsApp might be secretely working on a web application. The news was followed by a statement given by Paul Durov of Telegram in an interview which said that WhatsApp tried to hire one of Telegram's web developers.

As you can see from the screenshot above, the code of the new WhatsApp update 2.11.471 includes references to WhatsApp web service.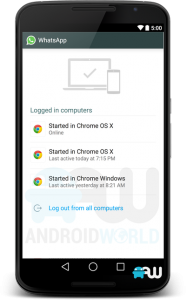 It also mentions tracking statuses on web from different computers. Therfore, it is clear that WhatsApp is surely trying to integrate its web functionality with the app. The WhatsAPI official team shares on github that if WhatsApp is preparing for web client, users might need to login their WhatsApp account using OAuth, which will then send a request to your mobile client, which after accepting will login you to the web client. The website client may be: https://web.whatsapp.com which is currently protected.
There were rumors that if ever there is a WhatsApp desktop client, it will need users to login via Facebook login which was disturbing for many. Thankfully, the recent reports suggest nothing like it. There are no such speculations on when will WhatsApp Web be live from. But, we do know WhatsApp is going to introduce free calling service next year.