With smartphone industry growing under a knife sharpened with competition, applications are no exception due to which they are improvising like never before. Hike, an Indian messenger, has already introduced free voice calling feature. And now WhatsApp messenger, a cross platform application, has rolled out the calling feature, too for some Android devices.
A Reddit user, pradnesh07, shared some screenshots showcasing the WhatsApp call feature. He came across this feature when he received a WhatsApp call from his friend. The rollout of this feature goes by an invite like mechanism, where to enable this feature, the user must get a call from someone already enabled with it.
Looking at the shared images, the top bar on the app features three tabs, first for the text-based chats, second for contacts and the third for calls. Other screenshot shows a basic instruction for making a WhatsApp call to any of your contacts.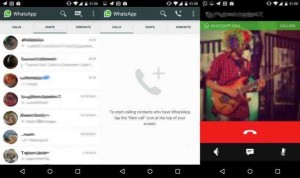 The release of WhatsApp call feature which is on trial basis has been restricted to Android users for now. Reports have also suggested that it would be accessible only via the latest 2.11.508 version of the messenger application. Although one might have to get the APK file of the application from official website of WhatsApp until it is out on Google Play Store.
 According to Jan Koum, WhatsApp CEO, this delay in rolling out the voice calling feature was due to technical hurdles faced by the developers. WhatsApp has not yet announced the call feature officially, as the company might still be looking at some feedback before its global release. WhatsApp, with a huge user base, recently gave out the much-needed web based version of the application. And after starting this call service, it is only going to grow more stronger.