This is a guest post by Aditya Sengupta (@sengupta, blog). Sengupta is a research fellow at IIT B and the OG Scientist for sci-fi interviews 😛
The last Wikipedia meetup in Mumbai was a big one- with founder Jimmy Wales himself in attendance. Set in the huge Sophia Bhabha auditorium at Breach Candy, Jimmy Wales took to the stage to talk about the Wikimedia Foundation's plans of setting up its second office in the world, right here in India.
His talk began by showcasing some statistics about Wikipedia usage and bringing up some of the softer aspects of Wikipedia culture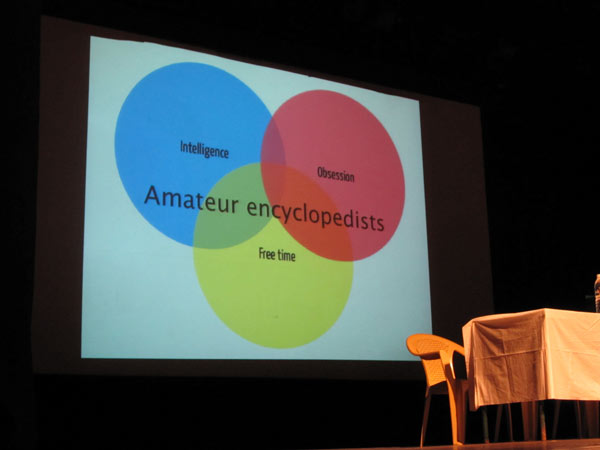 and jokes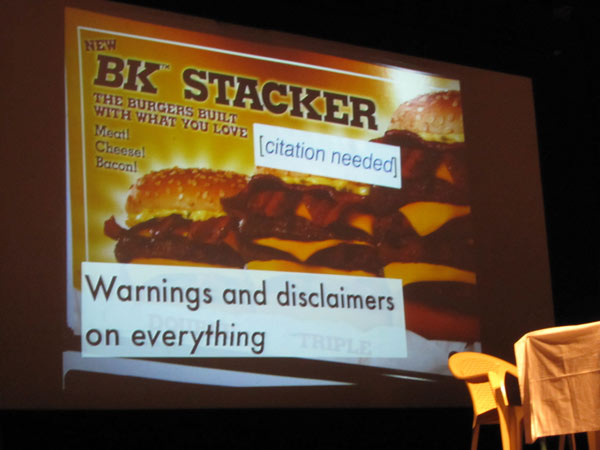 Having likened Wikipedia's 16 million articles as 16 million things for the community to argue about, he went on to explain why it was important to understand the community as a means of knowing where it was headed.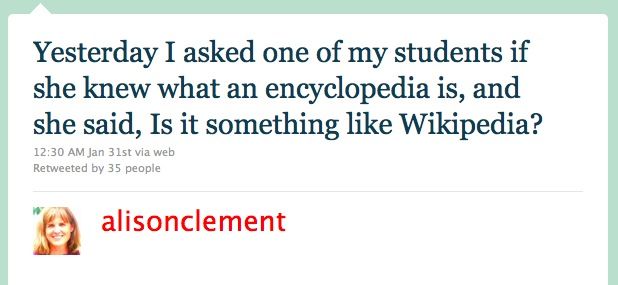 After establishing a firm mental picture of the average Wikipedian (26, male, highly intelligent, possibly obsessive and with a lot of free time), he brought up the Foundation's plans in India and the future of its Indic language projects.
He shared his concerns on how India represented only 1.5% of Wikipedia usage despite having a 4.7% share of global internet usage. He outlined his 2015 goals of having 100K+ articles for each of the top 10 Indian languages.
As ideas for the Wikimedia Foundation's India office, he invited the establishment of university clubs, development of mobile solutions, integration of Wikipedia in schools along with article writing competitions for specific language projects.
He made it clear that the office would be supporting the local Wikipedia chapters by providing logistical support for its initiatives and also explained that the investment in India would be temporary- the office would adjust its capacity as the local community builds its own capacity.
After his brief talk, Wales (and later, Foundation board member Bishakha Dutta, president of Wikipedia's India chapter, Arun Ramarathnam and founder of Kannada Wikipedia, Hari Prasad Nadig) took questions from the audience  where they addressed concerns about the dullness of content on Wikipedia (they are focusing on images and animations- but want to ensure that only content created using open standards is used) and how Wikipedia can sometimes be very difficult for kids to understand (Every article on wikipedia should be written in a way that it's most accessible to who its target audience is).
We then caught up with a one on one with Jimmy Wales to ask him a couple+ of questions
He explained that the India office would probably be quite small- with around 3 to 4 people. He reiterated that the primary function would be to help the local chapter with any problems it was facing and to support it in its goals.  We asked him why the experience of editing Wikipedia was so slow in India while the experience of reading was (relatively) much faster.
He explained that the process of reading would require the content to be served from a copy that was cached on the Foundation's servers in Amsterdam, while the process of editing required updating the core databases in Florida.
He did however mention the likelihood of placing the Indic language project servers closer to India to improve performance and the experience that users and editors both have on the website.
We asked him about his thoughts on the rising star, Quora, but he left us disappointed saying that he didn't really have any thoughts despite having profile there- he had simply checked it in passing.
Samir asked Wales about user interface issues on Wikipedia to which Wales replied stressing on the Wikimedia software's code being open source.  He invited developers to contribute to the codebase, particularly considering the fact that the Foundation itself had a very small staff.
We asked him specifically about racism and bias on Wikipedia- and issues that can arise out of articles being edited by a set of people with a one sided approach (such as the articles on India and China being India-centric since parts of Wikipedia are blocked in China). He emphasized that the issue was an important one for the Foundation.
As regards problems arising from subconscious biases, he stressed that the solution was to promote conversations- particularly self-critical ones. He countered the issue of a one sided approach by editors by explaining how controversial topics tend to make editors more self-conscious about what they are editing and makes them focus on editing neutrally.
He lauded the WikiReader project as an offshoot of the freedom that Wikipedia provides as far as its content goes. He expressed concerns on the 100USD price but hopes that the price will come down with increasing volumes.
Interview by Annkur P Agarwal & Aditya Sengupta. Also joining us at the meet / interview was Samir Makwana / Magic by Netra Parikh