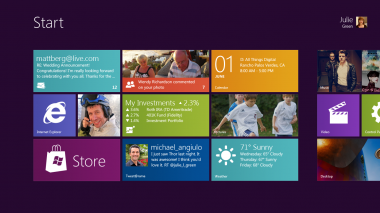 Microsoft's Steven Sinofsky and Julie Larson-Green gave an early preview of Windows 8 at the D9 conference. Win 8 was labeled by Ballmer as their riskiest bet in Oct 2010. While I had played down the 'riskiest' remark last year, it seems that Ballmer wasn't kidding. Windows 8 poses a unique challenge to Microsoft. While the world is moving towards touch and they continue to play catch-up in the mobile race, it wouldn't be long before the regular desktops / notebooks start to get more touchy.
Surprising many, what was shown at D9 is a touch centric OS that borrows a lot of Windows Phone. While conceptualizing Windows Phone 7, its clear that Microsoft was also working on a bigger picture with desktops and tablets in background. On the touch interface the applications are built with HTML5 and Javascript, but if the app isn't made for touch, you would boot into a regular Windows dektop look. In the demo video you would see MS Excel opening up in a Windows 7 shell, rather then the tablet / touch interface that you see above.
Microsoft might well have its learnings from the infamous 'courier' project as well. Labeled as 'snap' a Windows 8 feature allows you to run two apps side by side on the screen. Its a promising concept to say the least. To an extent this looks pretty odd to me as we aren't used to seeing Microsoft doing great on the touch front, but WP7 and Win 8 both impresses me. While I wait for Windows Phone to mature and add a lot of missing features, Windows 8 has a task of transforming the entire PC ecosystem. Given their 25 years of legacy, it sure would happen in parts. 
Flawed?
In response to iPad or not, is the Windows 8 concept flawed? We can see @gruber writing on Daringfireball and my friend @android_ajit (does the name suggest something :P) talking about the desktop version of Excel spoiling the fun on a touchscreen. Well clearly they haven't seen the MS Office on Windows Phone 7. There is no reason for us to believe that MS Office won't be reworked for tablet screens with Windows 8 (yes the Windows 7 tablets are crappy).
If we see what ASUS presented with the Padfone, you would realize that there is a need for converging tablets and smartphones. But why not the PC / Notebook as well? A common OS with UI that transforms as per need doesn't sound bad to me. In all probability we would see Google releasing an Android Ice Cream Sandwich that would boot into a phone and tablet with different UIs. Entering the race a little late, Microsoft is in a position to take the same concept across all three screens! Why leave the desktop / laptop out?
Didn't we see Steve Jobs on stage last year talking about their learning from the iPad and taking it to Mac OS X 'Lion'? Here is what they say "We're taking our best thinking from iPad and bringing it all to the Mac with Mac OS X Lion, available in summer 2011." In principle, Microsoft is doing the same. Learning from the mobile evolution and taking it to all three screens.
Judging Windows 8, an unreleased OS on the basis of a quick preview is a flawed opinion. *waiting to see it release*
Updated with an official Microsoft video on Youtube instead of the D9 video  (more crisp and richer quality)