WD is one of the most famous companies when it comes to hard drives. As the name suggests, the WD My Passport Wireless lets a user save, share, and access stored content wirelessly on a computer, tablet or smartphone. The device is mainly for people who are on the go and need to transfer data without any internet connection or wires. The My Passport Wireless provides users with the option to use USB 3.0 connection when transferring huge amounts of data.
The hard drive shows up as a WiFi router on any WiFi enabled device and you can connect up to eight devices at one time. It comes in 500GB, 1TB and 2TB of storage space. The drive can also be used as a regular storage drive if connected to the PC. It has an SD card slot which reads SD cards of any storage. The 1TB variant is much thicker than the 1TB variant of the regular WD My Passport. It has two status LEDs on its body; one for WiFi and the other to show the charge.
To get started you need to download the WD installer on you PC. Once installed, switch on the drive and connect your laptop to the drive like how you'd connect to a WiFi router. Now you can transfer your files. WD also has a mobile app for Android and iOS where you can access your data. The media files played seamlessly on the phone and there was no lag. It almost seemed that the drive was connected via USB.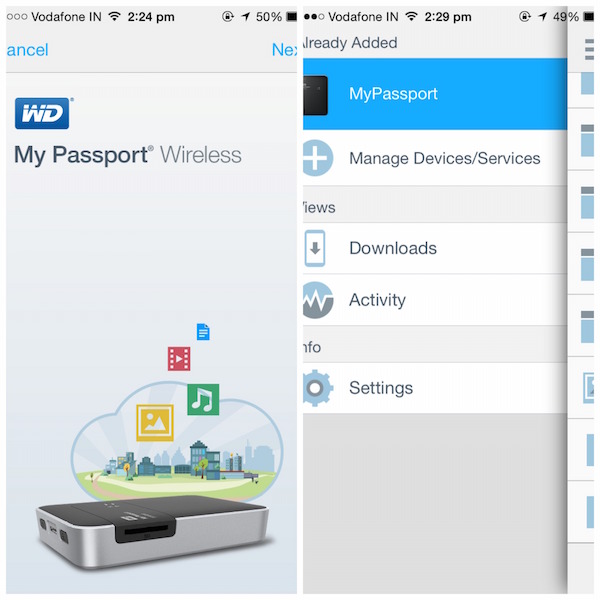 In terms of speed, transferring a file wirelessly took way more time than doing it while connecting the drive to the PC. After testing it, we figured that to transfer a 1GB file the time taken was as follows (please note that the speed varies, especially in wireless mode. This is an estimate derived out of timing it multiple times):
USB 2.0 — 1 minute 36 seconds
USB 3.0 — 41 seconds
Wirelessly — 6 minutes
This clearly show that transferring data wirelessly takes much more time and if the file size is big then it would be better to transfer it by connecting the drive to your PC. But then this product allows you to access data on a hard drive via a smartphone or tablet, something that can't be done using regular drives due to the lack of a USB port on most of these devices. But if that's not the use case, it is better to spend around Rs. 4,000 for a regular hard drive than the Rs. 13,000 for this.