The world's 3rd largest smartphone distributor, Xiaomi  has secured second rank in the global wearables market. As per the IDC report, it is on the second spot, both in terms of shipments and market share.
Significant fact is that the Chinese company has achieved so much over a short span of time. It has taken  just over a year to get to the second spot, preceded by Fitbit on the prime spot. The Mi band priced at Rs. 999 was launched in August 2014 in China and was later introduced to Indonesia, Malaysia, Singapore, Hong Kong, China and finally India in April 2015.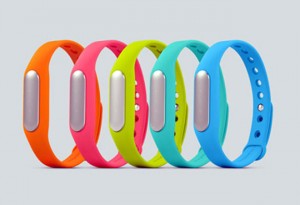 To bring the Mi Band to the market, Xiaomi had partnered with another startup -Huami Technologies. Mi Band monitors activity levels, tracks walking distance and calculates the calories utilised. It helps in achieving the daily exercise targets and works towards a healthier lifestyle. It syncs with the app to analyze fitness and sleep activities, the data can be shared and compared with friends.
Fitbit maintained the top spot by releasing three new devices — the Charge, Charge HR and the Surge, in the first quarter of 2015. Moreover the demand continues for its older Flex wristband, One and Zip clip-on models, as stated by the report. The report has placed Garmin on the third spot followed by Samsung and Jawbone. With the launch of two new units, Jawbone won over Pebble and Sony for the fifth place.
The report further indicated about the effects in the market due to entry of Apple's watch.The wearables analysis supervisor, Ramon Llamas anticipated that the Apple watch will likely become the device that other wearables will be measured against, fairly or not. This will force the competitors to upgrade their game to stay on the top. Apple`s arrival will change the panorama, he added.