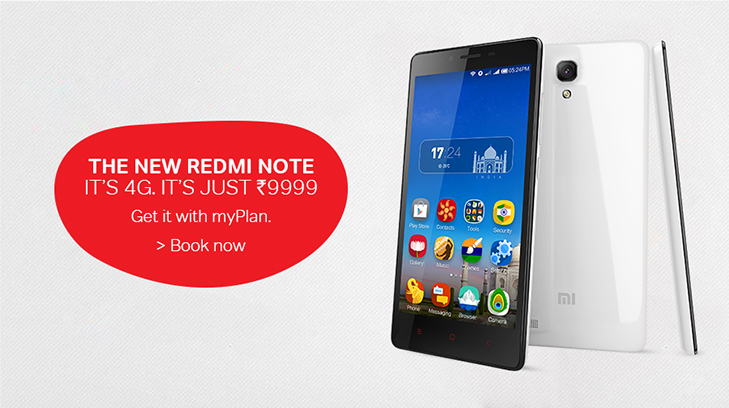 Airtel has partnered with Xiaomi to release the Redmi Note with Airtel's new 4G based data services across 6 cities in India. The phone will also be available in 133 Airtel stores in Mumbai, Delhi, Kolkatta, Hyderabad, Banglore and Chennai.
Customers will be able to book their Redmi Note online on Flipkart and select their preferred store location and date to purchase the device. There will also be a Mi day every week where customers can directly walk in to Airtel stores and buy the device without prior online bookings. Airtel said the devices will be sold on a first come first serve basis.
Airtel customers with a minimum of 500mb 3G data pack active can easily move to the Xiaomi Redmi Note – prepaid and non-Airtel customers will have to initially opt for an Airtel postpaid myPlan.Customers from cities where Airtel 4G services are not yet available will directly be upgraded to 4G from their exisitng 3G plans. An Airtel simcard will be provided with the handset.
Sporting a 5.5 inch HD IPS display, the Redmi Note 4G is powered by a 1.6GHz Qualcomm Snapdragon 400 Quad Core processor with 8GB of storage on board and expandable upto 32 GB. The battery will be a 3100mAh unit. The Note will house a 13 Megapixel rear facing camera and a 5 Megapixel front facing shooter for selfies.  Based on Android JellyBean it runs Xiaomi's signature MIUI interface. With Android KitKat rolling out on many devices, the JellyBean on the Redmi Note might be a disappointment for some.
The Redmi Note 4G was announced in November and was slated to be released by December end but is releasing today. It will be a worthy watch whether this delay and Airtel's recent Anti-Net Neutrality blunder will in any way affect the Redmi Note sales.
This post was contributed by Saurabh Thakare. You can follow him on twitter on – @saurabhmanav