More and more smartphone OEMs are now releasing full screen design phones with 18:9 aspect ratio display. Such phones do not have enough space on the bottom bezel to house capacitive keys. Hence, the function of capacitive keys on these phones have been replaced by on-screen buttons. The iPhone X that sports a full screen design is enabled with user-friendly on-screen gestures for a better user experience. Even OnePlus has released beta version of iPhone X-like gestures on OnePlus 5T smartphone that features an 18:9 display. Xiaomi has also recently added similar kind of gestures on couple of handsets like Mi MIX 2, Redmi Note 5 Pro and Redmi Note 5 through MIUI 9.5 beta update.
One should be aware of the fact that the MIUI 9.5 global beta is only available to users who have enrolled in Xiaomi's beta testing program. Also, since it is a beta update, it is likely to contain bugs that may hamper the performance of the phone.
Through the official MIUI forum, Xiaomi has confirmed that the full screen gestures can be enabled by to Settings > Full Screen Display and then selecting Full Screen Gestures. Once the feature is enabled, it will show a tutorial to learn how to use gestures on supported devices.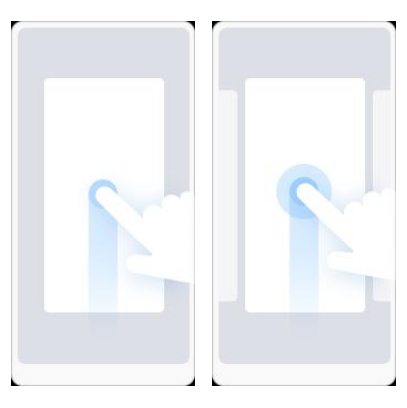 Once enabled, swiping up from the bottom of the screen will take the user to the Home screen. Swiping up from bottom and pausing on the screen will show Recent Apps. In order to go Back to the previous page, users can simply swipe left or right from the edge of the display. The company has added that some of the apps like Facebook, Instagram and others have their own inbuilt gestures. These gestures can be accessed by swiping left or right from the edge in the top portion of the display.
The devices that currently support full screen gestures are Mi MIX, Mi MIX 2, Redmi 5, Redmi 5 Plus, Redmi Note 5 and Redmi Note 5 Pro. The Chinese manufacturer has conveyed through the forum thread that it has axed the hide navigation option as full screen gestures have replaced the on-screen navigation buttons. It does not mean that users will to take a decision on either using on-screen navigation buttons or full screen gestures. From MIUI 9.5, users won't be able to hide navigation bar according to their convenience. Xiaomi has recommended users who have assigned shortcuts to navigational buttons to continue using on-screen buttons instead of the newly introduced gestures.
The Quick Ball feature that was introduced through MIUI 8 is still accessible on the latest beta update. At present, Xiaomi has no plans to introduce the new gestures on non-full screen devices. However, it may consider the request of other users in future, but currently it is focusing on optimizing the experience of gestures on full screen design smartphones.
Have you tried the full screen gestures on your full screen design Xiaomi phone? Share us your experience by posting your comments below.