The Chinese handset maker, Xiaomi which is known for its successful range of Mi phones will soon start selling their devices from their own portal. This particular move by Xiaomi is to create its presence in one of the world's fastest growing market.
Xiaomi currently sells their phones by conducting flash sales on its homegrown e-commerce website Flipkart. The company now plans to bring in Mi.com to India in the latter part of the year for selling its devices. Currently the company sells its devices through its website in most of countries except India and Indonesia.
Xiaomi's India Head Manu Jain told PTI that they are looking out for warehousing and logistics partners in India. The company is also figuring out different payment mechanisms like Cash on Delivery. They have estimated that it may take them anywhere around between three to nine months. He further said that the company will continue its association with Flipkart.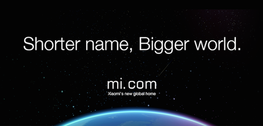 There is no doubt that Xiaomi isn't convinced about the potential of the Indian markets. And it can be seen through its recent launch of new handset – Mi 4 for Rs. 19,999 which will expand its operations in India. Manu Jain commented that they have always held India as one of their important markets. He further stated that they have big plans for India this year. The Bejing based company is in the process of signing the lease on a facility in Bangalore which will be their R&D unit. This would be their first unit which is based outside China.
The move of making Mi.com live in India shows the serious interest of Xiaomi in Indian markets. The company has so far launched three devices in India which are the Xiaomi Mi3, Xiaomi Redmi 1S and Xiaomi Redmi Note. The cumulative sale of these devices has crossed a mark of more than million units.