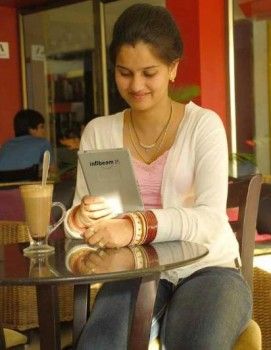 Whoa, we got this one right for sure! Just as we revealed to you all exclusively that Infibeam is all set to unveil the Indian Kindle, they have actually gone on sale with an e-book reader. Called the "Pi" this thing costs a reasonable Rs 9999 and is currently on pre-order @ Rs 999. Shipping starts from Feb 22nd.
Keeping in mind the multitasking that users in India like to do, this thing comes with a music playback option, however, the hardware atleast from the looks of it doesn't look to be as refined as the Amazon Kindle (nor did we expect that). The 6? screen is E-ink, however, the built does away with too many buttons. The local language support is present with Hindi and Sanskrit mentioned (expect all major languages though). Formats supported includes PDF, EPUB, HTML, TXT, MOBI, DOC and Images (will show in grayscale – screen is 600×800 pixels) in JPG, BMP & PNG. The Pi also packs in some gaming support with a Function Key made available & Navigation key that is used for Soduku. We are pleased to see an accelerometer offered in the mix.
So is this good enough formula for India ? Yes IMO. I don't see anyone buying a $250 or $500 Kindle in India, but throw in a MP3 player and some basic gaming along with local language, well we might well have a success story here. The need only tech concept rules India big time. We don't want polished hardware, colourscreens with multi-touch. We want cheap, we want multi usable products. Thats what the Pi is. I would surely give this a thumbs up with over 1 lac books on sale with Infibeam. What now I hope is that Infibeam does to books, what moserbaer did to movies!.
Infibeam Pi Specs:
Screen: 6″ E Ink® Vizplex. No backlight / glare.
Slim: Less than 10mm
Light Weight: 180gm
SD card support. Internal 512mb memory saves 500 ebooks
MP3 Playback (earphones supplied)
MicroUSB connector
No backlight. Daylight readable.
Hope we can get our hands on one of these a little before the final release 🙂
Thx @nirav for the tip this time. Product page.