At the much awaited BlackBerry OS 10 event at NewYork yesterday RIM announced three major things. First, the company until now knows as RIM would henceforth be known simply as BlackBerry. Thats right, they are dropping the "Research In Motion" tag in lieu of the much more popular "BlackBerry" tag. Anyway. apart from showcasing BlackBerry OS 10 at the event which we would be taking a look at in a later article, BlackBerry also announced two new handsets.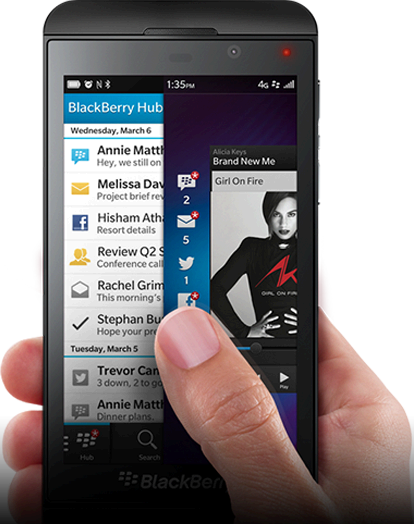 The two handsets being the Z10 and the Q10. Of these, the Z10 would be seeing the official launch first – sometime in March this year – followed by the Q10 in April. Let's talk about the Z10 first. This flagship BB OS 10 device boasts of a 4.2 inch touchscreen with a resolution of 1,280 x 768 pixels. This effectively endows with a decent pixel per inch density of 356. Not eye popping – but amongst the nest out there for sure! The phone weighs 138 grams and isn't exactly thin at 9.2 inches at its broadest.
The Z10 gets a 1.5GHz dual-core Snapdragon S4 processor which coupled with a colossal 2GB RAM will ensure a smooth, non laggy user experience. The phone also gets comprehensive connectivity options with support for Bluetooth 4.0, NFC and WiFi a/b/g/n and full support for LTE. Other notable bits include a micro-USB port, micro-HDMI and a 3.5mm headphone jack. The battery on this device is rated at just 1,800mAh which prima facie looks inadequate for a phone of this class. The device supports microSD cards of up to 32 GB capacity.
On the imaging front, the handset features an 8 megapixel camera that can also shoot full HD videos. The two megapixel front camera can be used for video calling and Skype.  While no clear launch date has been mentioned, the phone is set to arrive in the U.S by March for a price of $199. This of course is with a 2 yer contract.
As for the second phone, this one like we mentioned is known as the Q10. Unlike the Z10, which is an entirely touchscreen handset, this one comes with the standard BlackBerry keyboard as well as a 3.1 inch 720*720 pixel touchscreen. Most features of the Q10 are still under wraps.