BlackBerry has announced the launch of their new flagship phone in India, the Z30. We had earlier stated that the BlackBerry Z30 was due to release in India October 24th. The BlackBerry Z30 smartphone is  claimed to be the biggest, fastest and most advanced smartphone in the country. It was speculated that it will be priced around the sub 45k mark. But the Z30 can be yours for a price of Rs. 39,990/-. To be honest, we are surprised that the launch price is less than that of the Z10 launch price. A really good move on part of BlackBerry.
The Z30 is BlackBerry's second full-touch screen smartphone. A successor to the Z10, it features a  5 inch AMOLED display and runs the latest BlackBerry 10 OS version 10.2.   It houses a significantly larger battery than its predecessor with a 2880 mAh Li-Ion battery; 1000 mAh more than the Z10. BlackBerry claims that the enhancements of the latest OS will enable users to get a better and longer battery life.
It is powered by a Qualcomm MSM8960T Pro Snapdragon processor clocked at 1.7 GHz and supported by 2 GB of RAM. It has an internal storage of 16 GB and can be expanded to 64 gb using a microSD card. The MSM8960T Pro processor uses a quad-core Adreno 320 GPU; better than that of the one used in Nokia Lumia 1020.
Moving on to the camera, the Z30 houses an 8 megapixel camera with LED flash at the rear and a 2 megapixel front camera. The main camera can record 1080p videos while the secondary camera can record videos at 720p.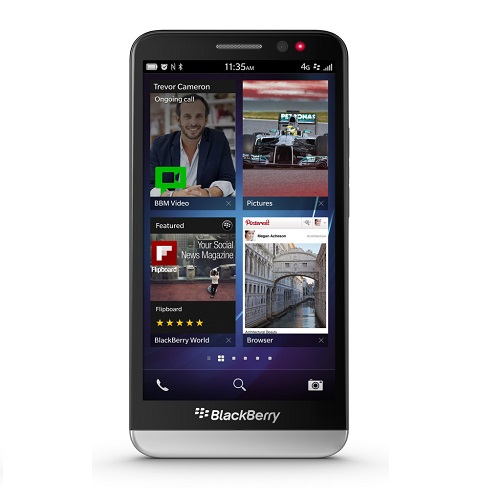 Some productivity features include The BlackBerry Priority Hub, BBM Now, BlackBerry Natural sound, etc.
BlackBerry Priority Hub – BlackBerry Hub helps users manage all conversations and notifications in one place.
BBM™ Now – You can get a preview of any message as soon as it arrives; even if you are using other apps. If you get a message on BBM, you can instantly reply to it without leaving the app you are using.
Stereo Audio and BlackBerry® Natural Sound – They help deliver clearer and better sound quality. According to BlackBerry, they enable the audio so clear that you'll feel as if you are talking to a person in the same room.
New Antenna Technology – The BlackBerry Z30 smartphone features Paratek Antenna which helps tune signal reception for better connectivity and faster data transfers.
A month ago, BlackBerry slashed the price of the Z10 to Rs 29,990/-. Maybe it was the right price at which they should have launched the device. Nevertheless, the price of Z30 is quite enticing when clubbed with the features and upgrades that it has to offer. Now with the successful launch of BBM for Android and iOS devices along with the introduction of Z30; BlackBerry is clearly looking to try and woo youth and corporates to whom they once catered to!
Will the recent changes restore lost glory for the Canadian smartphone maker; the perch that was once theirs? Leave us your views on Twitter on @onlygizmos or comment below or on our Facebook page.
Watch the BlackBerry Z30 promo video: