It was only a few days back that Nokia announced the Camera Extras app which would asd more functionality to the cameras on the Nokia Lumia Windows Phone.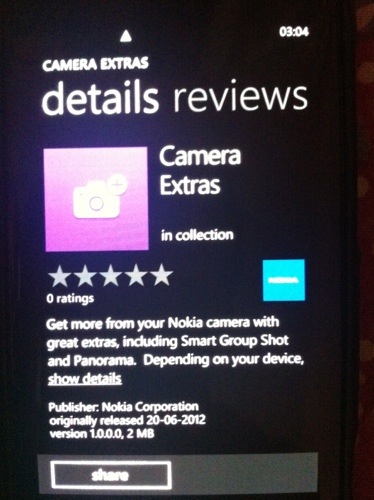 Well, the Camera Extras app is alteady here albiet it is only available for select regions which apparently are US and China. The other markets are scheduled to get the app by the first week of July.
Although the Camera Extras downloads as an app, on clicking, it just asks you to activate your camera via the drdicated button. The app actually adds four additional features to your camera which are Self Timer, Action Shot which allows you to take multiple shots like HTC and Samsung does, Panorama and the Smart Group Shot.
The Smart Group Shot uses technology from Scalado which was recently acquired by Nokia. This feature allows one to take multiple group photos and exchange heads with bodies from multiple photos into one in order to get the best shot.
Nokia now has the potential of making the most advanced camera smartphone after the acquisition of Scalado and combining it with the in house PureView technology. Hoping these Nokia Lumia Pureview rumors come true sooner than later.
We'll soon have a video review of the new features added by the Camera Extras app. Do watch out this space.
Camera Extras Starts Rolling Out for Select Nokia Lumias