As repeatedly leaked, Facebook just launched its new launcher for Android devices, Facebook Home, accompanied by the first device to run it out of the box, the aptly named HTC First. As expected, there is a very deep integration with all of Facebook's services. Their main target seems to be the plethora of users out there that use their phones as social devices first and productivity devices second as they've completely undermined Android's intrinsically productive widget and app shortcut system.
http://www.youtube.com/watch?feature=player_embedded&v=tWKE0HTl0ig
The Homescreen
Facebook Home's main screen is basically your news feed condensed into automatically swiping and updating visual panels. You can double tap to like any item on screen or comment on it straight from there, but that's basically it. Its quite minimalistic and very Facebook centered; though if your phone usage revolves around Facebook, it should come in handy.
Notifications
Even the notification system on the homescreen has been revamped. Though apparently Facebook Home does not show app notifications, your Facebook notifications as well as your text messages are displayed as side swipeable ribbons right on top of your homescreen. You can long press on one notification to collapse all of them and swipe them away simultaneously.
Messaging and Chat Heads
Here's where Facebook has come up with one of their more innovative features: the weirdly named "Chat Heads". Basically whenever one of your friends sends you a text message or a Facebook message, Their contact picture will appear in a bubble to the side of whatever app you are in at the moment and you can simply tap on it and reply without leaving your app. It does seem somewhat hamstrung due to the lack of integration with modern messaging services like Whatsapp or Kik or Google Talk to name a few.
The App Tray
Another way in which Facebook sidelines apps in Facebook Home is by only presenting a list of bookmarked apps when you open the app tray, instead of showing you all the apps in your device. You have to swipe left to get an alphabetized list, which you can use to arrange your app bookmarks.
The HTC First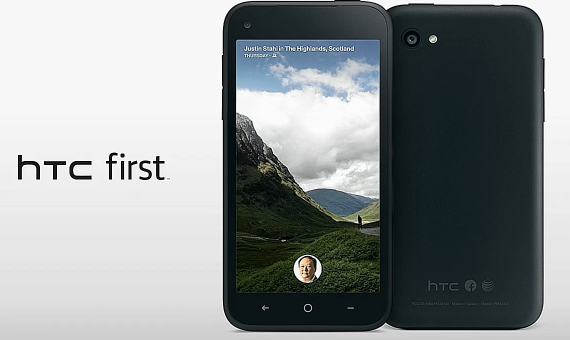 Facebook also brought on HTC and AT&T to announce the first phone running the Facebook Home UI out of the box; the HTC First. They were quite light on specs during the presentation itself, but they've since confirmed to include a 4.3″ 720p display, Qualcomm's Snapdragon 400 processor and Android 4.1. It is exclusive to AT&T for $99.99 on contract right now, so don't expect it to come to India anytime soon!
The Way Ahead
Both Facebook Home and the HTC First shall be launched on April 12th, with Home only available for the HTC One, One X, One X+, Samsung Galaxy S3, Galaxy S4 and the Galaxy Note II on launch with more devices soon to come. Facebook has promised regular monthly updates too. They've also promised UK availability for the HTC First on EE and Orange. It will also be available for tablets in the coming months and will soon feature advertisements as well.
Facebook also announced the Facebook Home Program, which is basically a laundry list of specifications for OEMs to adhere to if they want Facebook Home on their phones out of the box. Currently, HTC, Samsung and Sony have signed up for it.