With less than a couple of days to go for Apple to unveil its next generation iPhone. Since the media invites have already been sent by the Cupertino based company, it's now official that there would certainly be a release of another iPhone. Unlike last year, Apple has shifted their usual schedule for iPhone announcement from October to September. However, next month is rumored to be reserved for the much awaited iPad mini which would capture the market share of 7 inch tablets such as Microsoft Surface, Google Nexus 7, Amazon Kindle etc.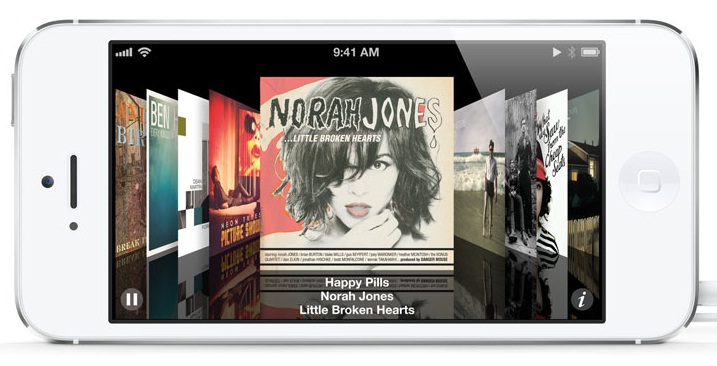 We are also hearing reports that September 12 event wouldn't be entirely iPhone centric. Instead, there would be two refreshes for iPod touch line up. Previously, we heard that the company would showcase revamped iPods alongside with iPad mini in October. Perhaps, there's a probability that Apple has some other surprises for us which we have not seen yet.
Last couple of months have been filled with next iPhone rumours. Thanks to the nomenclature which the third edition of the iPad brought, a lot of people now feel that the latest version might be called the "new iPhone" as well. Though, the popular name still seems to be the "iPhone 5″ with the masses. But the shadow from the numerical '12′ generating a '5′ on the white texture has resulted in rife speculations that the latest iPhone would be called "iPhone 5″ and not "new iPhone" or anything else as being suggested by some bloggers.  
Barring nomenclature, let's dive straight in to what we know about iPhone 5 from the rumours -
Bigger display:
Yes, this was being
reported
by many reputed sites long ago. Although it was pretty much hard to believe considering that late Apple's CEO Steve Jobs called 3.5 inch as the most appropriate size for a mobile devices. But now, it seems that Apple would break that trend since 2007 and elongate the size of screen a bit (as close to 4 inch).
Undoubtedly, this is what the rumor suggests until now. However, that much hype in the 
display wouldn't see any change in width unlike what competitor are doing currently. This would definitely make iPhone 5 look awkward, but who knows this might turn out to be yet another trend in the future. Needless to say, this change has more to do with the way one holds the device or better grip in this case.
Mini dock Connector:
Apple has been using 30 pin dock connector since first generation iPhone. If rumors are to be believed, iPhone 5 would showcase a shrink in the dock connector. The rumors for the number of pins have contradicted themselves numerous times. Some said that mini dock connector would have 8 pins, whereas others claimed 9. Whatever happens, it's also rumored that Apple would sell a dock converter from 9 pin to 30 pin or vice-versa.
With the whole accessories eco system thriving on the iPhone's and the iPad's, any change in the 30 pin dock connector makes it imperative for Apple to release a dock converter to avoid accessories from going obsolete for the user and the market. Apple's wireless syncing and iCloud's introduction has tremendously minimised the need of wires for users.
Apple is also expected to implement the same mini dock connector in all of its products including the previously released new iPad this year.
A6 (quad core) Chip or A5X?
There's still no credible leak on the fact that Apple would either go for A5X or A6 for next generation iPhone. Considering the regular trend, whatever SOC Apple introduces in iPad, it also sees its implementation in next generation iPhone. But this year, Apple could put a hold to that trend as well and use an A6 chip (quad core processor) instead of an A5X  in iPhone 5.
From what i understand, the real reason behind this change is because Apple had introduced Retina display in new iPad for the first time. And to power that retina display, they required a quad core GPU. Though the processor still remained dual core for a better user experience. The next generation iPhone might not need the same bump. Hence, Apple could use an A6 chip for blazing fast performance.
4G LTE
Even though LTE might not be available worldwide or is about to be rolled out in many countries, Apple would integrate 4G LTE in iPhone 5 for better internet connectivity and faster downloads. They have done it with new iPad and it's time to take a step further.
Nano-SIM
Many sources have
claimed
that Apple would change the standard of SIM cards yet again. From iPhone 5 onwards, customers will be required to buy new SIM cards to match the
nano SIM
standards. In India, where equipping micro-SIM was a challenge for carriers, we don't know if they would come on time. That's when iPhone 5 would be launched in India.
Even Bigger Battery 
Altering the SIM-card standard from micro-SIM to nano-SIM is a clear indication that Apple would make the battery more bigger than the previous generation iPhone. This change would be due to 4G LTE or a 4 inch display  which would consume more juice than iPhone 4/4S.
Change in the position of headphone jack and design of speakers - 
Various credible sources have claimed from time to time that iPhone 5 would see a change in the position of headphone jack. It would be shifted from top of the iPhone to the bottom. Thereby, using the space left after shrinking the size of dock connector. Also, the design of speakers would be changed altogether from what we see in iPhone 4/4S. 
Thinnest iPhone ever
The leaked prototype of iPhone 5 have been compared with the previous generation models that includes iPhone 4/4S and iPhone 3GS. As it turned out, iPhone 5 is the thinnest iPhone ever Apple has ever created. When all three of the devices are compared, iPhone 3GS appeared to be the thickest followed by iPhone 4S and the least thickest was iPhone 5. 
Partial Metal at the back
Apple's rumoured to include metal at the back. However, this metal wouldn't cover whole of the back of next generation iPhone, but partially. This means that the area beneath the camera and above where information is written at the back would be covered with metal. This change might be to make iPhone more sturdier than ever before. 
Position of Front Camera
Similar to iPod touch 4G, Apple could change the position of the front camera. It would be on the top of the speaker, rather than beside it. This could give more accurate angle while video conferencing with your peers using FaceTime and other services.
NFC? No!
The air was cleared about NFC coming in next generation iPhone when 
Jim Dalrymple 
of The Loop said that it's not happening anytime soon. It seems that either Apple doesn't see NFC as uprising or they need some more time until all the issues associated with it are resolved. 
So we think that NFC in iPhone 5 is certainly not a possibility.
Are these improvement enough for iPhone 5 to succeed in the market? We would surely come to know in next coming months when it would hit the market. For now, let us know what you think of the features on the new iPhone / iPhone 5 in comments below.

iPhone 5 Rumors Round Up, What We Know Till Now!