In what is largely seen as a regressive change to PayPal India's terms and conditions, the company, starting March 1, 2011 would NOT allow its Indian users to make purchases for goods and services directly from their PayPal accounts. If that wasn't all, users would have to transfer payments received to their accounts to their respective banks within 7 days of the receipt of the money. So what's the worst part? You cannot receive more than $500 per transaction for your goods and services you offer – which is seriously lame. If you happen to be a Freelancer, this ain't particularly heartening news for you, is it?
Here's what the official announcement mockingly tells you:
"With effect from 1 March 2011,  you are required to comply with the requirements set out in the notification of the Reserve Bank of India governing the processing and settlement of export-related receipts facilitated by online payment gateways
In order to comply with the RBI Guidelines, our user agreement in India will be amended for the following services as follows:
Any balance in and all future payments into your PayPal account may not be used to buy goods or services and must be transferred to your bank account in India within 7 days from the receipt of confirmation from the buyer in respect of the goods or services; and
Export-related payments for goods and services into your PayPal account may not exceed US$500 per transaction."
This will undoubtedly affect people who are dependent on PayPal for services they offer to foreign clients.
Paypal has also put up an FAQ that blames the RBI for this fiasco: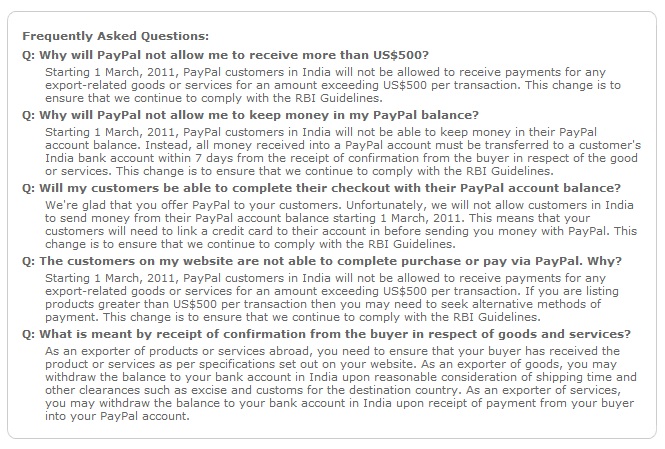 Seriously PayPal, its time you and RBI sit together, have a cup of coffee and decide whether to go back to 1995 or move ahead with the times.
*Googles "PayPal Alternatives"*