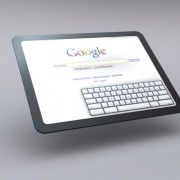 Yes we have heard the rumors, seen the demo and we have heard the latest Verizon Google Tablet rumors but given the fact that all of this remains either a prospect or plain rumor, we know what is needed. Microsoft Slate is lost in the wild, WebOS tablet from HP-Palm isn't in sight either and none of the Android tablets is here to convince us that they stand even a thin chance against the Apple iPad. Given the fact that Google isn't taking the plunge and officially making the Android OS available for tablets, I don't see anything but half baked products rolling out (Dell Streak running Android 1.6 anyone?).
Now since I know as a mater of fact that the few things for which you would use a tablet is email, ebook reading and media consumption – all of which can be delivered with a browser based OS like Chrome. I see no issue but the fact that we are yet to see the Chrome OS even in netbooks. And given the fact that Google Wave evaporated due to lack of traction, I wouldn't like the same to happen with Chrome OS due to late entry.
Forgive us for now covering too many Android tablets here in, but we are yet to be impressed by any…
PS: If you are thinking of the Notion Ink Adam, we only ask to see it ourselves!