Samsung has just launched their latest flagship smartphone, the Galaxy S4, at an event in New York. It is a logical continuation of their Galaxy S line and does not really bring any surprises to the table in terms of hardware. Akin to their winning strategy with the S3, the S4 brings a whole host of software improvements and "smart" features.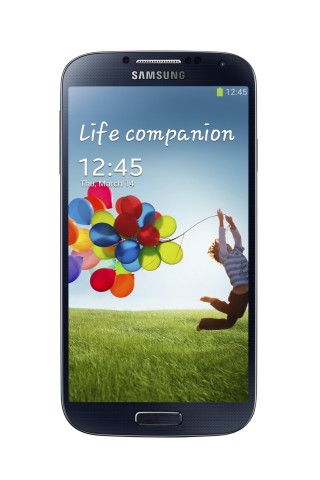 Specifications:
5″ 1080p Super AMOLED HD display (still PenTile unfortunately)
1.6 GHz Exynos 5 Octa 5410 processor
2 GB RAM
16/32/64GB internal storage with microSD card support up to 64GB
 13 MP primary camera and 2 MP secondary camera
Android 4.2.2
2600mAH Battery

Bluetooth 4.0 and WiFi a/b/g/n/ac
Hardware:
In terms of hardware, the S4 is mostly an evolution of the S3's design. It features a similar front face with highly curved edges and long straight sides, though the top and bottom bezels have been reduced. Another thing that has been reduced is the thickness of the handset itself (from 8.6mm to 7.9mm).
On the back you see the large 13 MP camera sensor and are treated to a mostly unadorned expanse.
The International version of the phone (likely to wind up in India) will include the Exynos 5 Octa processor which uses ARM's big.LITTLE technology by coupling a 1.6GHz quad core Cortex-A15 processor with another 1.2GHz quad core Cortex-A7 processor for a grand total of 8 cores. Though the major advantage of this  architecture is not in power, but battery life.
The phone also includes temperature and humidity sensors, which coupled with the S-Health app, provide a comprehensive overview of your health.
Software:
As with the Galaxy S3 before it, the meat of the story of the Galaxy S4 is not in its hardware, but its software. Samsung has tried with all their might to get users to not touch their screens at all, by building eye tracking and gesture tracking features into the handset.
The Note II's Air View has made a transition over to the SGS4 wherein you can view details of some content by only hovering your finger over it. They've also included palm gestures, that allow you to scroll through photos in your gallery or tabs in your browser by simply sweeping your palm in front of the device.
They've also incorporated Smart Scroll and Smart Pause in conjunction to the SGS3's Smart Stay. These allow you to scroll through web pages and the like by simply looking at the bottom portion of the screen and pause videos when you're not looking respectively.
Conclusion:
From what we can tell, there doesn't seem to be much of a reason to upgrade to the SGS4 if you already own an S3, primarily because Samsung has confirmed that the S3 will receive most of the software features the S4 has to offer.
In terms of the competition, here's a competitive load-out based on the specs on paper:
Its fiercest competition comes from the HTC One, which has a much more premium build, but is sure to lack in terms of software gimmick offerings.

Moving on to the Xperia Z, it outclasses it on pretty much every front in terms of specs, with a more modern processor as well as its software features even though the Xperia Z has a nicer design and is waterproof.
Compared to the Nexus 4, it beats it hands down on paper, but if you prefer the simplicity of stock Android, its your only option.
The iPhone 5 is similarly beat on specs alone, but we have yet to see what comes out of the iOS camp in 2013, with iOS 7 looming large.
You can also watch the launch video below: