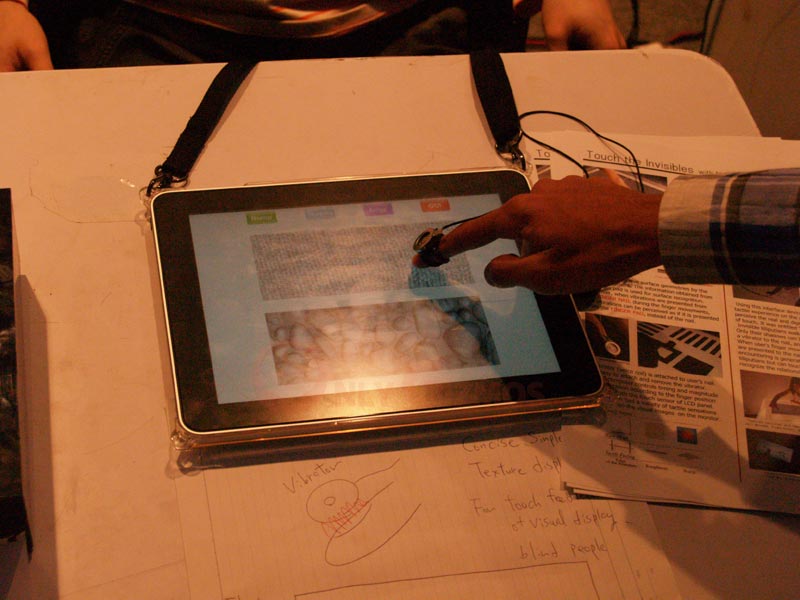 Another guest post by our in-house scientist – Aditya Sengupta. You can must follow him on twitter @sengupta!
The tactile interface device demoed in this video does an impressive comparison between conventional haptic feedback devices that rely on the whole device to vibrate (the big touchscreen box on the right is an example), and a novel interface device designed by NTT's Junji Watanabe and Osaka University's Hideyuki Ando, amongst others. The concept itself is stunningly simple- a nail mounted voice coil that vibrates in a manner that causes the stimulus to be perceived as if it were from the finger pad itself. Depending on the visual texture being touched on the screen, the coil vibrates in a manner that mimics the haptic feedback of the texture- a rather realistic effect in our opinion. We can imagine applications for this in areas beyond just assistive technologies- there is much scope for such technologies in the mainstream.
 In fact, we have seen similar attempts (albeit with conventional haptic feedback devices) in the commercial space already. RIM, the makers of Blackberry, shot back at the iPhone with a full touchscreen, but with a twist. The screen provided haptic feedback upon touch. It was called the next-gen SureType keyboard and it provided the feel of pressing a real button combining vibration with a touchscreen that pushed in when pressed. The technology bombed when released to consumers.
The reason was simple, while some loved the physical touch feel the touchscreen had, many still loved the smooth response of the iPhone display.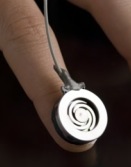 The technology on display at the Techfest 2011 exhibition, shows us two things. 1) How a display can have tactile feedback without having to make the user press against the screen hard, and 2) how a gadget like the iPad itself can give tactile feedback by just having a small accessory over it. The best of both worlds!
Is this ready for prime time? Perhaps not, but this surely gives us a glimpse of how technology can evolve in the future. We can expect some innovation coming out for the visually impaired for sure, but at the same time I do see at least some use in touchscreen gaming and implementation future smartphones / tablets / computers.
A perusal of this project can be done at: http://junji.org/invisibles/
Annkur P Agarwal contributed to this post.