Google's messaging and video chat service "Hangouts" has got a total makeover with a separate website named hangouts.google.com. It has got a cool new user interface that you might fall in love with it.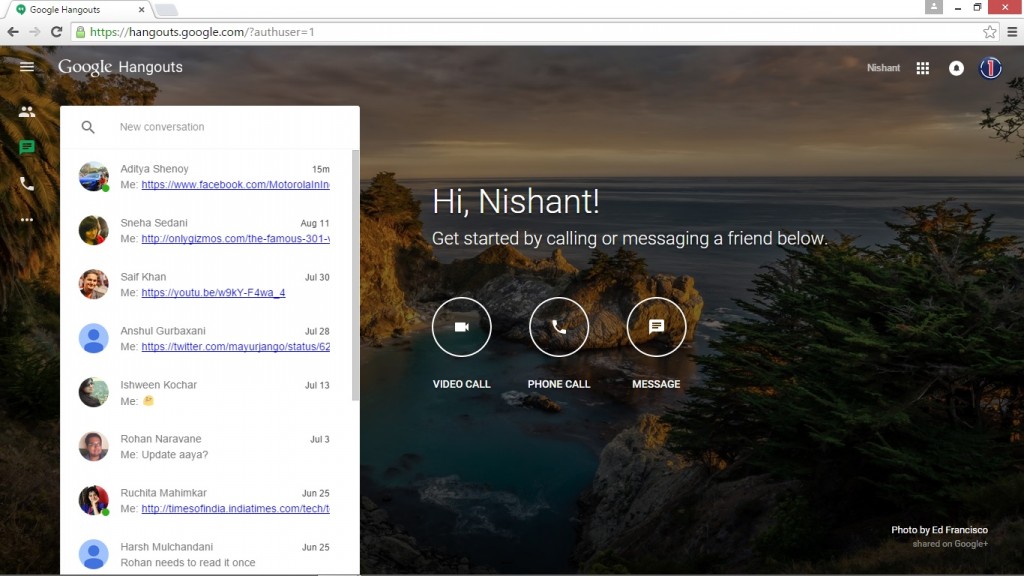 The site shows up with Hangouts' three key-features – video call, phone call and messages in bold and clean icon with great photos on the back picked from images shared on Google+. The video call facility is flawless and can hang out with 10 people at a time that Facebook Messenger, Whatsapp and Hike also have but is limited to 1 person at a time. It also supports GIF images that Whatsapp or Facebook Messenger doesn't support as of now. It is definitely going to be very easy for people to use the service without activating Google+ on your account Gmail account.
While instant messengers like WhatsApp and Facebook Messenger are immensely popular, Hangout is also becoming very useful nowadays. Hangouts only needs a Gmail ID to work and is very easy to use. Once logged in chatting with childhood friends or discussing work related things with office colleagues is a breeze.  
Google also has a Hangouts dialer app that helps you to enable free voice calling feature to make calls without using cell plan and call other hangouts user for free. The feature currently is only available in the United States and there is no news of it coming to India anytime soon.
Rumors suggest that the Google is going to shut the "Hangouts" that appears in Gmail which we were using till now. As of today, the service is working on both platforms flawlessly. Let us know your views on the new Hangouts in the comment section below.