At the ongoing Google I/O Developers Conference at San Francisco, California, Google was expected to make a bunch of new announcements. Primary among them was the imminent introduction of the latest version of Android – codenamed "JellyBean". Along with the introduction of JellyBean, people were also expecting Google to showcase the much rumored Google Nexus Tablet which was widely thought to be the showcase device for JellyBean (or Android 4.1).
Much to our expectations, Google did indeed announce the Nexus 7 at the Keynote (which went on for over 2 hours). The newest Nexus Class device is quite a powerhouse of its own. Let's take a quick look at what it has on offer for its prospective buyers.
Display and Size
Ever seen the Playbook? The Kindle Fire? The Nook Tablet or the Galaxy Tab 2 310? Well, the Nexus 7 looks similar to those tablets and is quite similar to them in overall size too. The dimensions of the tablet, lest we forget is 198.5 x 120 x 10.45mm. It features a 7 inch 1280* 800 pixel HD display with a pixel per inch density of 216 that we assume should be decent enough on a display of this size. This is an IPS panel, just like the one on the iPad and comes with the Corning Gorilla Glass coating for scratch resistance.
Just for your reference, the PPI density on the third generation iPad's ridiculously clear Retina display is 264. So, this one is actually quite good and not that far behind.  Tipping the scales at just over 340 grams, this isn't a heavyweight either - but the I don't think you can walk around freely with this thing in your pants – especially after having a hard time fitting the 7 inch  Samsung Galaxy Tab 310 in my trouser pocket over the course of most of last week.
Under the Hood
Powering the Nexus 7 is a quad core Nvidia Tegra 3 chip which is quite potent in itself. Asus (yeah, the Nexus 7 is made by them) has however decided to go a step further and added a 12 core GPU inside this thing resulting in Google claiming that this is one kickass gaming device. They did showcase a bunch of demos during the keynote. While it was great, I would need to see a few more demos before being entirely convinced. But hey, this certainly is not a bad gaming device and rest assured, you would be playing some nice titles on this one if you happen to be an avid tablet gamer. As for storage capacity, the Nexus 7 would come in two options – one with 8 GB of memory and another with 16 GB of memory. There is no micro SD card slot to increase this further. Lame, I might as well add. Rounding off the internal I/O specs, we have information about the 1 GB of RAM that the Nexus 7 sports in order to help you with all your multitasking needs. Neat.
Connectivity Options
As you would expect from a Nexus class device from Google, the Nexus 7 is filled to the brim with all kinds of connectivity options a tablet could possibly have (with the notable exception of 3G capability, however). It gets Wi-Fi b/g/n, NFC support with Android Beam, Bluetooth, GPS and micro USB. Anyway, it was weird of Google to not consider giving this one 3G/4G capability. Other notable additions include a gyroscope, accelerometer and a magnetometer.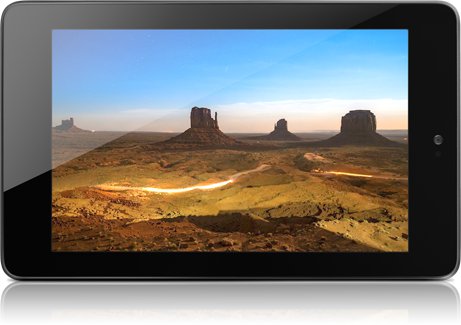 Software
The Nexus 7, like I mentioned earlier, would be the first device to come loaded with Android 4.1 Jelly Bean and comes with a bunch of new features including a faster UI, better notifications system and an overall increase in smoothness. We would of course be taking a detailed look at Android 4.1 in a separate article. Anyway, to sum things up, this is probably the best tablet experience you would ever get from an Android device – at least for the time being.
Camera
Perhaps, the most disappointing aspect about the Nexus 7 is the fact that it comes sans a dedicated imaging camera at the back. There is however a front 1.2 megapixel front camera that you can use for video calling purposes. It is beyond me as to why Google and Asus chose to not include a camera on this device.
Battery Life
Coming to the all-important battery life, Google claims that the 4325 mAH battery inside this device is good enough for 8 hours of active usage and 9 hours of continuous video playback. It also offers a standby time of over 300 hours. While these claims do sound preposterous, we can only comment on this once we get hold of a unit ourselves and see for ourselves.
How to Get One?
First of all, ensure that you are in the U.S. or the UK.  If yes, you can simply pre-order the Nexus 7 from the Google Play Store. As for pricing, the base 8 GB version starts at $199 along with a $25 credit for Play Store. The 16GB version will set you back by $249. Pre-orders have already commenced and shipments should arrive by mid July. As usual, there is no sign of an India launch.
All You Wanted To Know About The Google Nexus 7 Tablet