According to reports published by StatCounter, Google dipped to a lowest ever score since 2008 for online search referrals while Merissa Mayer's Yahoo turned up with its best performance till date. Google's share dipped to 75.2 percent in December, 2014 from 79.3 percent a year earlier. However, Google still remains the leader by quite some distance with its closest competitor being Microsoft's Bing at 12.5 percent.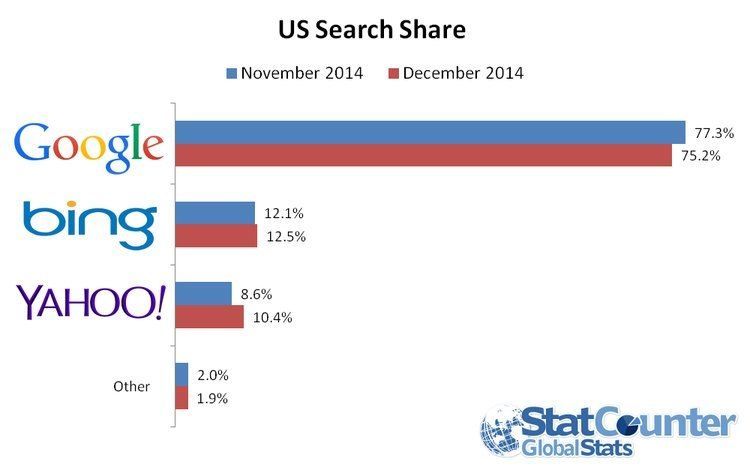 The real turnaround is noticeable in the performance of Yahoo due to a jump of 3 points to a score of around 10.4 percent, its highest ever since 2009. The share gain is good news for Yahoo as CEO Marissa Mayer pushes for more partnerships to boost the company's traffic and revenue.
Experts across the industry widely view this increase as a result of Yahoo's refocusing efforts on its search service. Not to forget the important factor, the collaboration with Mozilla's Firefox which made Yahoo the default search engine for Firefox users.
"The move by Mozilla has had a definite impact on US search," said StatCounter chief executive Aodhan Cullen.
StatCounter started keeping track of online search referrals since 2008. According to another report by them, Yahoo search was used 3 times more on Firefox 34 than on Firefox 33 whereas Google search usage dropped from 82.1% to 63.5% as users upgraded from version 33 to 34.
Mozilla's Firefox is the third most used web browser in the world behind Google Chrome and Internet Explorer. It is to be noted that Google was the default search engine on Firefox for almost ten years and Internet Explorer uses Bing as its default search engine.
Also, to be noted is the emergence of new search engine providers like DuckDuckGo which do not track user actions through cookies and as a result pose less of a threat to user privacy.
The future surely looks challenging for Larry Page's Google with many companies vying to break their monopoly and claim the lucrative online search space.