Apple showed the iOS 5 along with all new iCloud last month at WWDC. Both iOS 5 and iCloud are expected to be out in September along with some new hardware. But while the common man on the street waits to go hands-on with iOS 5 and iCloud, it seems that Android has made its move.
Google recently launched its new social initiative Google+ (Google Plus) that is majorly seen as a competition to Facebook, but there are features in there that leaves Android poised to take on iCloud and iMessage that Apple would roll out sometime soon. We have taken a look at Apple's reply to BBM / Whatsapp in the form of  iMessage before, so why should Android stay behind? Google+ app on Android brings a feature called 'Huddle' which works like iMessage or BBM allowing you to communicate with friends using the same app in a chat interface.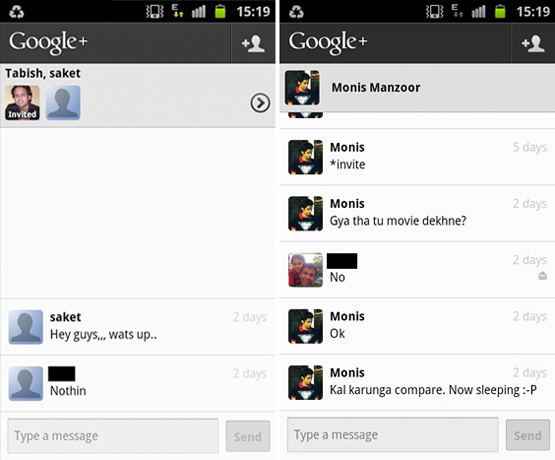 There is no reason why Google won't extend Huddle to all Android handsets in the near future, and while Huddle only supports text communications to begin with, we believe sharing data / photos / videos etc is just a flip of a switch away.
Another attractive feature Google brings with G+ is the auto sync features for images to Picasa. We were pleasantly surprised when our cellphone gallery was auto-uploaded to a private Picasa album and all of it showed up on Google Plus, ready to be shared. This is pretty much what Apple is doing with it iCloud photo sync. And as much as we have used it, we like it. The convenience of having all your photos and videos from camera roll being uploaded to a private online album and available for sharing on the web or simply downloading on your system works, instantly addictive and we think it's a winner.

For Google it's a big plus (:P) to add good mobile integration for Google+ and what better than its own Android platform to start with. If I am Facebook my worry is Android, for Apple, Google+ might be the thing that steals the thunder from iCloud / iMessage.